Penerapan Aplikasi KPSP melalui Pelatihan Kepada Guru Kober dan Guru TK
Keywords:
Android, Knowledge, KPSP
Abstract
Introduction: The SDIDTK activities are part of a comprehensive and high-quality child development program, focusing on stimulation, early detection, and intervention of developmental deviations during the first five years of life and for preschool children aged 5-6 years, utilizing the Pre-Screening Development Questionnaire (KPSP). The KPSP is employed at the family/community level by trained Early Childhood Education (PAUD) educators and kindergarten teachers. The Midwifery D3 Study Program at STIKes Muhammadiyah Ciamis has launched a new breakthrough, an Android-based KPSP application developed as a result of research conducted by faculty members from the Midwifery D3 Study Program.
Objective: The purpose of this service was providing a solution to the problem of effectively and efficiently utilizing developmental screening through an Android-based KPSP application, accompanied by an improvement in knowledge regarding developmental screening in infants and toddlers.
Method: This public service was conducted by identification, formulation of service instrument, conducting a pre-test on developmental screening for playgroup and kindergarten teachers, followed by the provision of materials related to child developmental screening and training on the usage of the KPSP application. The activity concludes with a post-test on knowledge of child developmental screening and the direct utilization of the KPSP application by playgroup and kindergarten teachers.
Result: There was an increase in knowledge to 100% after being given counseling related to child development screening and training on using the KPSP application which succeeded in making kindergarten and Kober teachers more effective and efficient.
Conclusion: Counseling in order to increase the knowledge of Kindergarten teachers and Kober teachers about child development screening has succeeded in providing a significant increase in knowledge.
References
Fauzi, A. R., Sunarni, N., & Solihah, R. (2021). Kuesioner Pra Skrining Perkembangan (Kpsp) Berbasis Android Sebagai Media Pembelajaran. Link, 17(2), 123–128. https://doi.org/10.31983/link.v17i2.7663
Fiva A Kadi, Herry Garna, E. F. (2008). Kesetaraan Hasil Skrining Risiko Penyimpangan Perkembangan Menurut Cara Kuesioner Praskrining Perkembangan (KPSP) dan Denver II pada Anak Usia 12-14 Bulan dengan Berat Lahir Rendah. Sari Pediatri, 10(38), 29–33.
James P. Guevara, Marsha Gerdes, Russell Localio, Yuanshung V. Huang, Jennifer Pinto-Martin, Cynthia S. Minkovitz, Diane Hsu, Lara Kyriakou, Sofia Baglivo, Jane Kavanagh, S. P. (2013). Effectiveness of Developmental Screening in an Urban Setting. Pediatrics, 131 (1)(30–37). https://doi.org/10.1542/peds.2012-0765
Kemenkes RI. (2014). Peraturan Kementerian Kesehatan RI Nomor 66 Tahun 2014. http://kesmas.kemkes.go.id/perpu/konten/permenkes/pmk-no.-66-ttg-pemantauan-tumbuh-kembang-anak
Kementerian Kesehatan RI. (2019). Pedoman Pelaksanaan SDITK Anak di Pelayanan Kesehatan Dasar.
Padila, P., Andari, F. N., & Andri, J. (2019). Hasil Skrining Perkembangan Anak Usia Toddler antara DDST dengan SDIDTK. Jurnal Keperawatan Silampari, 3(1), 244–256. https://doi.org/10.31539/jks.v3i1.809
Suprapto, S., & Arda, D. (2021). Pemberdayaan Masyarakat Melalui Penyuluhan Perilaku Hidup Bersih dan Sehat Meningkatkan Derajat Kesehatan Masyarakat. Jurnal Pengabdian Kesehatan Komunitas, 1(2), 77–87. https://doi.org/10.25311/jpkk.vol1.iss2.957
Yulianti, N., Argianti, P., Herlina, L., & Oktaviani, S. N. I. (2018). Analisis Pantauan Tumbuh Kembang Anak Prasekolah Dengan Kuesioner Pra Skrining Pertumbuhan (KPSP) Di Bkb Paud Kelurahan Serdang Kecamatan Kemayoran Jakarta Pusat Periode Oktober 2017. Jurnal Kebidanan, 2(1), 45–52. http://ejr.stikesmuhkudus.ac.id/index.php/ijb/article/view/456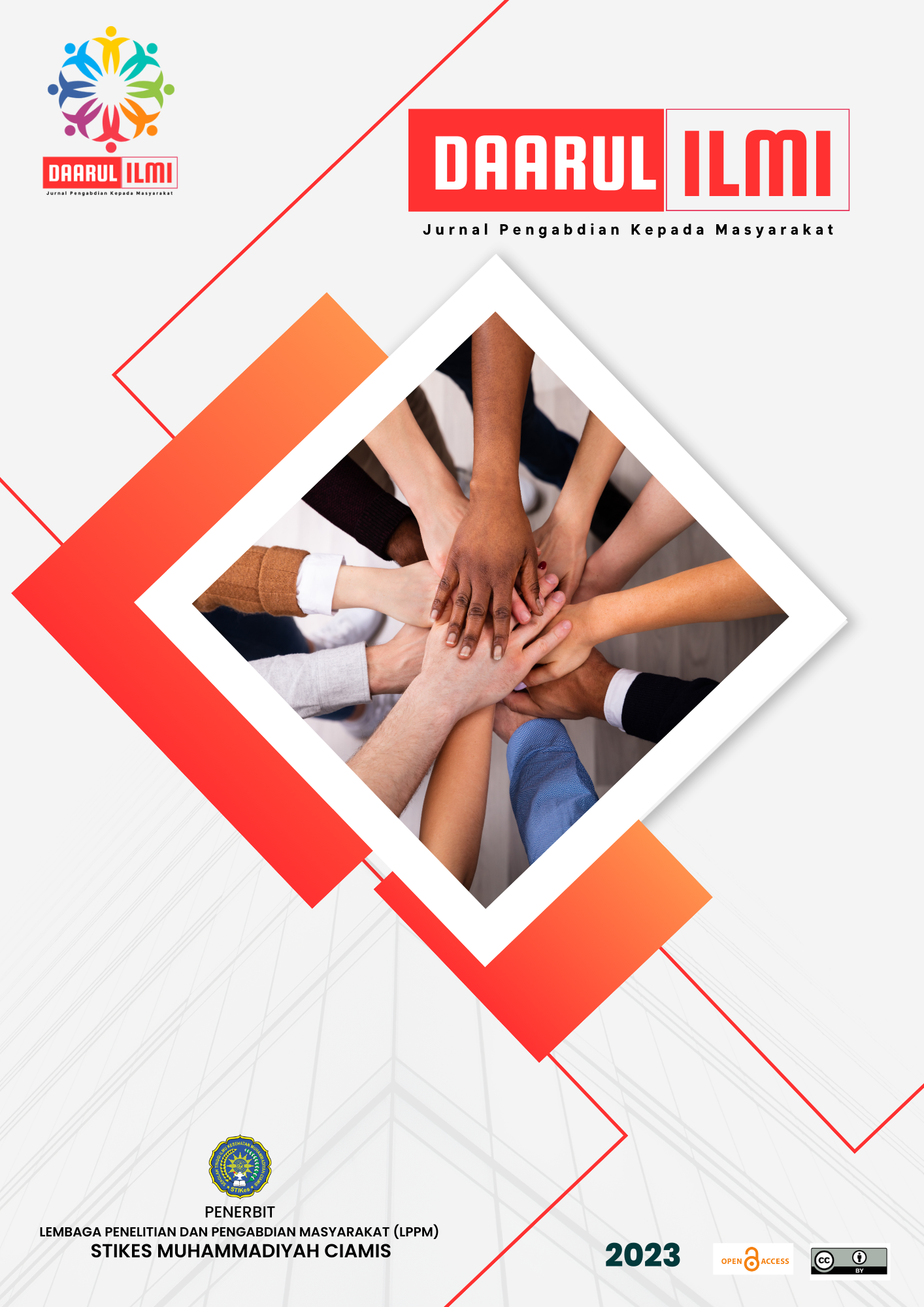 Downloads
How to Cite
Sunarni, N., Fauzi, A. R., & Solihah, R. (2023). Penerapan Aplikasi KPSP melalui Pelatihan Kepada Guru Kober dan Guru TK. Daarul Ilmi: Jurnal Pengabdian Kepada Masyarakat, 1(1), 8–15. https://doi.org/10.52221/daipkm.v1i1.232
License
Copyright (c) 2023 Neli Sunarni, Aulia Fauzi, Rosidah Solihah
This work is licensed under a Creative Commons Attribution 4.0 International License.