Vol. 1 No. 2 (2023): Asy-Syifa: Journal Of Science and Technology Nursing (September 2023)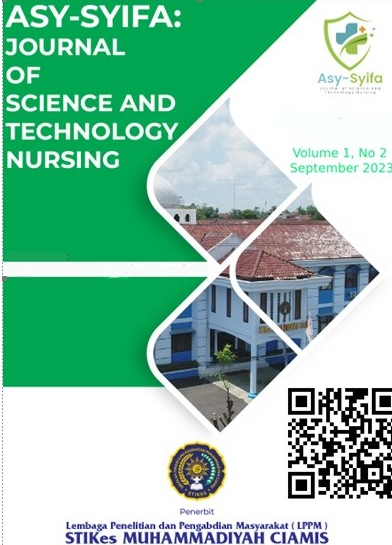 Asy-Syifa: Journal of Science and Technology Nursing is a Nursing Journal managed by the S1 Nursing Study Program of STIKes Muhammadiyah Ciamis which is published 2 times a year, namely in March and September. The scope of this journal includes: Community Nursing, Maternity Nursing, Mental Nursing, Pediatric Nursing, Medical-Surgical Nursing, Emergency Nursing, Critical Nursing, Nursing Management, Family and Gerontic Nursing and Health Promotion.
Contributors in this edition come from STIKes Muhammadiyah Ciamis, Nurse Maternity and Children Hospital Saudi Arabia and Galuh University Ciamis. Happy reading!
Full Issue