Formulation and Evaluation of Moringa Leaves Extract (Moringa oleifera L. ) Lotion with Variation Concentration of Triethanolamin
Keywords:
antioxidant, moringa leaves, lotion
Abstract
The Indonesian people know the moringa plant as a plant for consumption as a vegetable, a fetid decoction as well as animal feed. However, the Moringa plant, especially in the leaves, has another benefit , namely as an antioxidant. Antioxidants in Moringa leaves contain tannins, flavonoids, saponins, alkaloids, steroids and terpenoids. The purpose of this study was to determine a good formulation for the preparation of moringa leaf extract lotion with variations in the concentration of triethanolamine. The research method used is the experimental method. Data analysis was performed using the One Way Anova and Kruskal Wallis Test statistical methods . The results showed that the organoleptic test of slightly thick texture preparations for formula I, thick texture for formulas II and III; typical preparation odor of Moringa leaf extract; the color of the preparation is yellow. Homogeneity test of formula I was not homogeneous, formula II was not homogeneous in the third replication, formula III was homogeneous. The average viscosity test for formula I was 1,800 c.Ps, formula II was 8,300 c.Ps, formula III was 1,666 c.Ps. The average pH test for formula I was 6, formula II was 7, formula III was 8. The average adhesion test for formula I was 02.76 seconds, formula II was 02.02 seconds, formula III was 01.37 seconds. The average spreadability test for formula I was 3.9 cm, formula II was 6.6 cm, formula III was 6.9 cm. Based on the evaluation results obtained, it can be concluded that the triethanolamine concentration of 2.5% produces a good formulation for lotion preparations.
References
Agus Setiani, Lusi, Bina Lohita Sari, Lusi Indriani, and Jupersio. 2017. Determination of Flavonoid Content of 70% Ethanol Extract of Shallot Skins Using Maceration and Mae Methods (Microwave Assisted Extraction). Fitofarmaka: Scientific Journal of Pharmacy 6(2): 5–9.
Christina, I. 2009. Optimization of mixing temperature and rotational speed in the cream formulation process. Thesis. Yogyakarta: Sanata Dharma University .
Fitria, V., Ismail, R., & Nugraha, D. (2017). Uji Aktivitas Mukolitik Infusa Daun Karuk (Piper Sarmentosumroxb. Ex. Hunter) Pada Mukus Usus Sapi Secara In VitrO. DII Farmasi Stikes Muhammadiyah: Ciamis, 9-11Handayani, Y. 2017. Formulation and Evaluation of Hand And Body Lotion Sari Tumbi Carrot (Daucus Carota L) With Triethanolamine Concentration Variations As An Emulgator. KTI. Ciamis: STIKes Muhammadiyah Ciamis.
Hardiyanthi, F. 2015. Utilization of Antioxidant Activity of Moringa Leaf Extract (Moringa oleifera) in Hand and Body Cream Preparations . Thesis . Jakarta: Syarif Hidayatullah State Islamic University.
Ikalinus, Robertino, Sri Kayati Widyastuti, and Ni Luh Eka Setiasih. 2015. Phytochemical Screening of Ethanol Extract of Moringa Stem Bark (Moringa Oleifera). Indonesia Medicus Veterinus 4(1): 71–79.
Listiana, L., Wahlanto, P., Ramadhani, S. S., & Ismail, R. (2022). Penetapan Kadar Tanin Dalam Daun Mangkokan (Nothopanax scutellarium Merr) Perasan Dan Rebusan Dengan Spektrofotometer UV-Vis. Pharmacy Genius, 1(1), 62–73
Megantara, INA. et al. 2017. Lotion Formulation of Raspberry Fruit Extract (Rubus Rosifolius) With Variation of Triethanolamine Concentration as an Emulgator and Hedonic Test for Lotion, Udayana Pharmacy Journal , 6(1), pp. 1–5.
Noer, H. Benjamin M, and Sundari. 2016. Hand and Body Lotion Formulation of White Dragon Fruit Skin Extract (Hylocereus Undatus) and Its Physical Stability Test. Health XI(1): 101–14.
Patihul, H., Alika Nuansa, P., & Ardian, B. 2019. Cream Formulation of Moringa Leaf Ethanol Extract (Moringa oleifera Lamk) . 2 (2).
Pujiastuti, A., Kristiani, M., & Mangunwijaya. 2019. Formulation and Mechanical Stability Test of Hand and Body Lotion Tomato Juice (Licopersicon esculentum Mill.) as an Antioxidant. Indonesian Pharmacy Journal , 16 (1), 42–55
Rahman, AG, Astuti, IY, & Dhiani, BA 2013. Lotion Formulation of Bangle Rhizome Extract (Zingiber purpureum Roxb) with Triethanolamine Concentration Variations as Emulgator and Irritation Test. Pharmacy , 10 (01), 41–54.
Rahmi Latif, Auliah, Nining Sugihartini, and Ani Guntarti. 2020. Physical Properties of A/M Type Cream with Variation of Concentration of Moringa Oliefera Moringa Leaf Ethanol Extract Using Tween 80 and Span 80 Emulgators. Pharmaceutical Media of Makassar Poltekes XVI(1): 9–17.
Rowe, C., Sheskey, P., & Quinn, M. 2009. Handbook of Pharmaceutical Excipient Sixth Edition . London: Pharmaceutical Press.
and body lotion formulation with antioxidants and young cashew leaf extract (Anacardium ocidentale L.). Warta Pharmacy , 6 (1), 57–64.
Saidar. 2012. Formulation and Physical Stability Test as well as Anti-Mosquito Effect Test of Fennel Oil Lotion (Foeniculum Vulgare Mill). Thesis . Makassar: Alauddin State Islamic University.
Saryanti, D., Setiawan, I., & Safitri, RA 2019. Optimization of M/A Cream Preparation Formula From Kepok Banana Peel Extract (Musa acuminata L.). Indonesian Journal of Pharmaceutical Research , 1 (3), 225–237.
Sayuti, NA, AS, I., & Suhendriyo. 2016. Hand & body lotion antioxidant formulation with traditional lulurus extract. The Integrated Journal of Health Sciences , 5 , 110–237.
Sri Mulyani and Toga Laksana. 2011. Analysis of Flavonoids and Tannins Using Microscopy- Microchemical Methods Flavonoids and Tannins Analysis With Microscopy – Microchemical. Traditional Medicine Magazine 16(3): 109–14.
Susanty, Naufal Abiyu Ridnugrah, Alfan Chaerrudin, and Sri Anastasia Yudistirani. 2019. Antioxidant Activity of Moringa Leaf Extract (Moringa Oleifera) as an Additive for Making Moisturizers. Science And Technology : 1–7.
Tranggono, Retno Iswari, Latifah, Fatmah. 2007. Handbook of Cosmetic Science . Jakarta: PT. Main Library Gramedia.
Voight, R. 1995. Textbook of Pharmaceutical Technology . Yogyakarta: Gajah Mada University Press.
Wula, MRW (2018). Characteristics and Stability of Ethanol Extract of Faloak (Sterculia sp) Stem Bark Lotion . In Kti . Kupang: Ministry of Health Polytechnic of Kupang.
Yuliani, W., & Ismail, R. (2023). Uji Aktivitas Antijamur Fungi Endofit Tanaman Sarang Semut (Myrmecodia pendans) Terhadap Jamur Candida albicans. Pharmacy Genius, 2(1), 31–42.
Yusuf, A. L., Nugraha, D., Wahlanto, P., Indriastuti, M., Ismail, R., & Himah, F. A. . (2022). Formulasi Dan Evaluasi Sediaan Gel Ekstrak Buah Pare (Momordica Charantia L.) Dengan Variasi Konsentrasi Carbopol 940. Pharmacy Genius, 1(1), 50–61.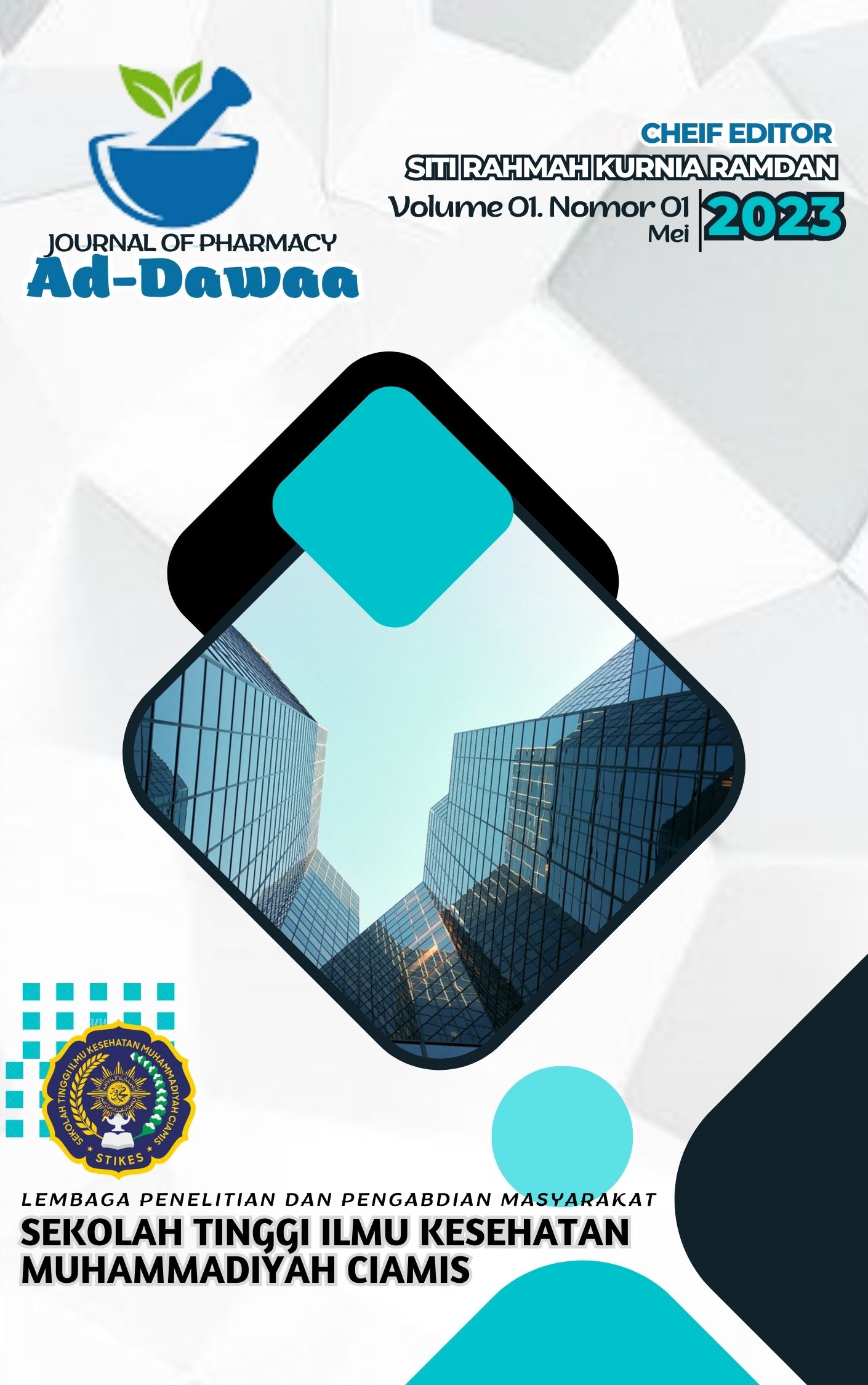 Downloads
How to Cite
Indriastuti, M., Wahlanto, P., & Utami, D. S. . (2023). Formulation and Evaluation of Moringa Leaves Extract (Moringa oleifera L. ) Lotion with Variation Concentration of Triethanolamin. Ad-Dawaa : Journal of Pharmacy, 1(1), 18-28. https://doi.org/10.52221/dwj.v1i1.222
License
Copyright (c) 2023 Ad-Dawaa Journal Of Pharmacy
This work is licensed under a Creative Commons Attribution 4.0 International License.