Albumin Identification in Catfish ( Clarias sp ) Using Spectrophotometry UV-VIs
Keywords:
Albumin, Catfish, UV-Vis spectrophotometry
Abstract
Albumin is a simple protein with globular protein molecules. Albumin is water soluble and can be coagulated with heat. Albumin solution in water can be precipitated by adding ammonium sulfate until saturated. Albumin functions to regulate the osmotic pressure in the blood, maintain the presence of water in the blood plasma so that it can maintain the volume of blood in the body and as a means of transportation and transportation. Catfish contains 15.6 grams of high-quality protein in each fish so that it can meet the needs of the amino acids needed by the body. The high-quality protein in catfish helps the body build lean brain mass and the protein content in catfish also helps increase the effectiveness of immune function. The purpose of this study was to determine albumin levels in catfish by extracting catfish meat using the oven method and determining the maximum albumin wavelength. In the identification test with the heating method and UV-Vis spectrophotometry test. This research method uses the experimental method. The extraction results were then heated in an oven to observe coagulation and determine the wavelength using UV-Vis spectrophotometry using Bovine Serum Albumin (BSA) as a reference solution and Bromocressol green as a reagent. The conclusion of this study is that catfish meat extract was coagulated using the oven method and maximum absorption was obtained at a wavelength of 625 nm using UV-Vis spectrophotometry.
References
Alauddin, A. (2016). Test the Effects of Snakehead Fish Extract (Channa Striata) on Incisions with Wistar Strain Male White Rats Administered Orally. Journal of Algorithms , 12 (1), 579–587. http://jurtek.akprind.ac.id/bib/rancang-bangun-website-pembedia-layanan-weblog
Alfarisy, MU (2014). Against Albumin Levels in Snakehead Fish (Channa striata). November 10th Institute of Technology .
Apriyana, I. (2014). Effect of Addition of Catfish Head Flour (Clarias Sp) in Making Cilok on Protein Content and Its Organoleptic Properties. Unnes Journal of Public Health , 3 (2), 1–9.
Chasanah, E., Nurilmala, M., Purnamasari, AR, & Fithriani, D. (2015). Chemical Composition, Albumin Levels and Bioactivity of Natural Snakehead Fish (Channa Striata) Protein Extract and Aquaculture Products. Journal of Postharvest and Marine Biotechnology and Fisheries , 10 (2), 123. https://doi.org/10.15578/jpbkp.v10i2.364
Fitriyani, E. (2018). The Effect of Temperature and Time of Extraction Toman Fish (Channa micropeltes) become to Albumin Powder. Journal of Tropical Galung , 7 (2), 102–114.
Fitria, V., Ismail, R., & Nugraha, D. (2017). Uji Aktivitas Mukolitik Infusa Daun Karuk (Piper Sarmentosumroxb. Ex. Hunter) Pada Mukus Usus Sapi Secara In VitrO. DII Farmasi Stikes Muhammadiyah: Ciamis, 9-11.
Khasani, I., & Astuti, DN (2019). Albumin level, growth and survival rate of snakehead fish (Channa striata) from three islands of Indonesia. AACL Bioflux , 12 (5), 1688–1697.
Listiana, L., Wahlanto, P., Ramadhani, S. S., & Ismail, R. (2022). Penetapan Kadar Tanin Dalam Daun Mangkokan (Nothopanax scutellarium Merr) Perasan Dan Rebusan Dengan Spektrofotometer UV-Vis. Pharmacy Genius, 1(1), 62–73
Maknumah, Z. (2015). Characterization of Commercial Gelatin Protein Profiles Using Sds-Page (Sodium Dodecyl Sulfate-Polyacrylamide Gel Electrophoresis) And Protein Content Analysis Using a Uv-Vis Spectrophotometer .
Puspitaningsih, S. (2018). Implementation of the Naive Bayes Method in the Catfish Disease Diagnostic System. Informatics, Department of Engineering , 91. http://etheses.uin-malang.ac.id/13897/1/14650096.pdf
Safir, M., Suriani, S., Serdiati, N., & Ndobe, S. (2022). Growth and Albumin Levels of Snakehead Fish (Channa Striata) Given Different Types of Fresh Feed. Unram Journal of Fisheries , 12 (4), 699–709. https://doi.org/10.29303/jp.v12i4.398
Sasongko, WT, Yusiati, LM, Bachruddin, Z., & Mugiono. (2010). Optimization of the Binding of Jackfruit Leaf Tannins with Protein Bovine Serum Albumin. Livestock Bulletin , 34 (3), 154–158.
Yuliani, W., & Ismail, R. (2023). Uji Aktivitas Antijamur Fungi Endofit Tanaman Sarang Semut (Myrmecodia pendans) Terhadap Jamur Candida albicans. Pharmacy Genius, 2(1), 31–42.
Yusuf, A. L., Nugraha, D., Wahlanto, P., Indriastuti, M., Ismail, R., & Himah, F. A. . (2022). Formulasi Dan Evaluasi Sediaan Gel Ekstrak Buah Pare (Momordica Charantia L.) Dengan Variasi Konsentrasi Carbopol 940. Pharmacy Genius, 1(1), 50–61.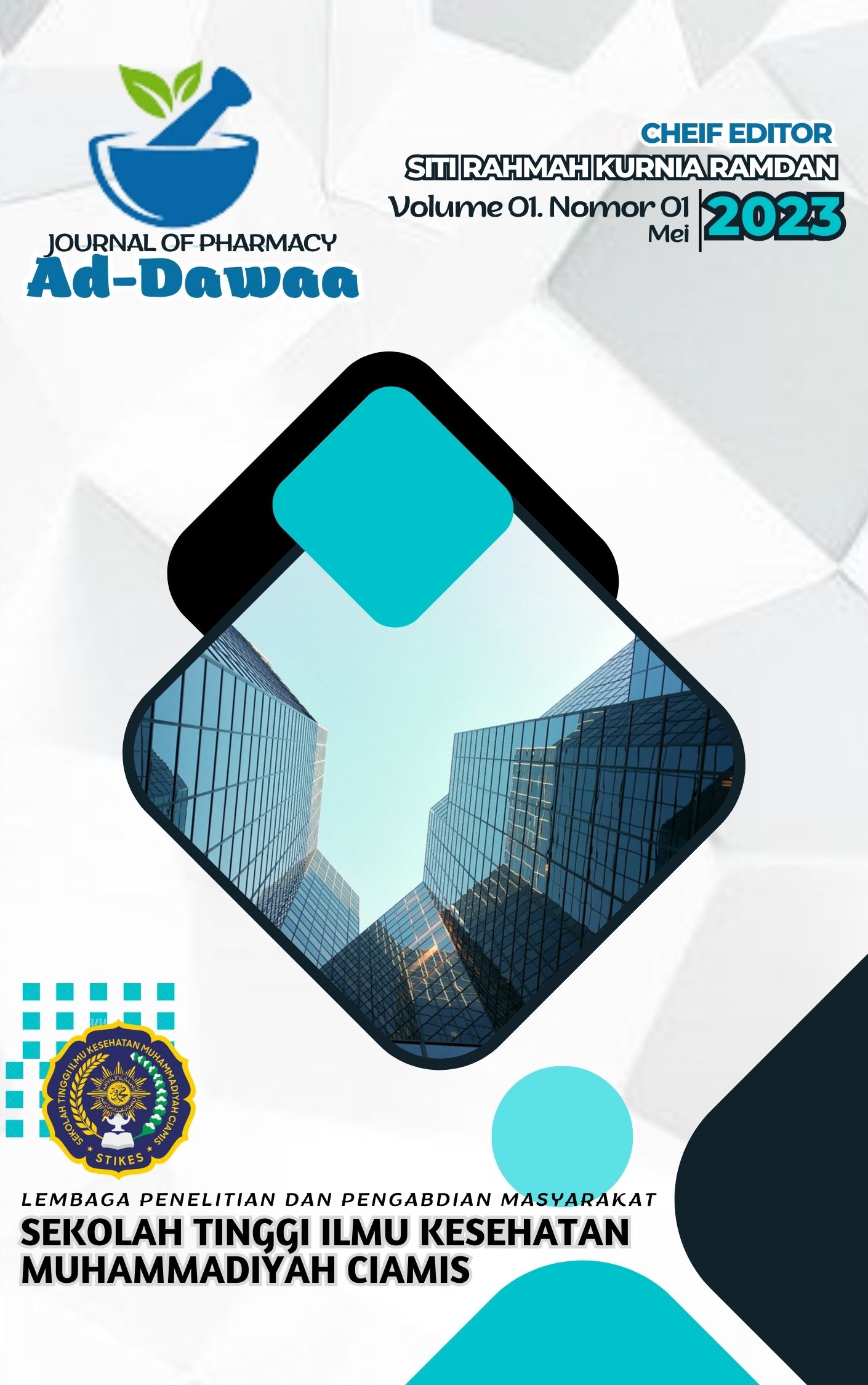 Downloads
How to Cite
Fitriani, P., & Nugraha, D. (2023). Albumin Identification in Catfish ( Clarias sp ) Using Spectrophotometry UV-VIs. Ad-Dawaa : Journal of Pharmacy, 1(1), 29-36. https://doi.org/10.52221/dwj.v1i1.223
License
Copyright (c) 2023 Ad-Dawaa Journal Of Pharmacy
This work is licensed under a Creative Commons Attribution 4.0 International License.