The Effect Of Play Therapy on Drug-taking Behavior In Toddlers In Pediatric Care Room
Keywords:
Play Therapy, Drug-Taking Behavior, Toddler Age Children, Hospitalization
Abstract
Background: A hospitalization is an event that often causes traumatic experiences, especially in pediatric patients, namely anxiety, fear and tension or hospitalization stress. Objective: This study aims to study the effect of play therapy on drug-taking behavior in "toddler" children in the pediatric care room. Method:This study used a pre-experimental pre-test-post test one group design approach. The population of this study were toddlers (2-3 years old) taken by accidental sampling and 30 samples were obtained. Data collection uses secondary and primary data. Data analysis used univariate and bivariate analysis. Result: The results of the study were: (1) The average behavior of taking medication before playing therapy was done was 16.77; (2) The average cooperative level after playing snake and ladder therapy is 22.67 and (3) the results of the Wilcoxon Sign Rank test obtained a value of Z = -3.827 with p-value = 0.000 <0.5 meaning that there is an effect of play therapy on behavior of taking medicine while carrying out treatment for toddlers in the Asoka Room at Polewali Mandar Hospital. It Conclusion: There is an effect of playing on the acceptance of toddler age children in the act of giving oral drugs. Hospitals, as health service institutions that provide services to all levels of society, especially pediatric health services, should design and facilitate rooms that are familiar to children and prepare play facilities according to the growth and development and health conditions of children. Nurses who focus on pediatric care should pay attention to aspects of child growth and development, where toddler-aged children should apply aspects of play to achieve therapeutic goals.
References
A'diilah, N., & Somantri, I. (2016). Efektifitas Terapi Mendongeng terhadap Kecemasan Anak Usia Toddler dan Prasekolah Saat Tindakan Keperawatan. Jurnal Keperawatan Padjadjaran, v4(n3), 248–254. https://doi.org/10.24198/jkp.v4n3.4
Amalia, A., Oktaria, & Ktavani, D. (2018). Pengaruh Terapi Bermain terhadap Kecemasan Anak Usia Prasekolah selama Masa Hospitalisasi. Majority, 7(2), 219–225.
Firmansyah, A. (2017). THE RELATIONSHIP OF NURSE KNOWLEDGE ABOUT THERAPEUTIC COMMUNICATION WITH IMPLEMENTATION OF THERAPEUTIC COMMUNICATION IN CHILDREN AGE OF PRASEKOLAH (6 YEARS) IN THE CARE ROOM 1 POLEWALI MANDAR RSUD. Bina Generasi: Jurnal Kesehatan, 9(2), 10-22.
Bayuti, urai septo. (2018). Pengaruh terapi bermain lilin terhadap pelaksanaan regimen terapi obat oral pada pasien anak usia prasekolah (3-6 tahun) di Ruang Rawa Inap RSUD dr. Abdul Aziz Kota Singkawang.
Colin at al. (2018). Pengaruh Terapi Bermain (Skill Play) Permainan Ular Tangga Terhadap Tingkat Kooperatif Selama Menjalankan Perawatan Pada Anak Prasekolah (3-6 Tahun) Di Ruang Edelweist Rsud Dr. M Yunus Bengkulu. Journal of Nursing and Public Health, 8(1), 111–116. https://doi.org/10.37676/jnph.v8i1.1008
Hastuti, D. (2017). Hubungan Pengetahuan Tentang Antisipasi Cedera Dengan Praktik Pencegahan Cedera Pada Anak Usia Toddler Di Rw 01 Kelurahan Manggahang Wilayah Puskesmas Jelekong Kabupaten Bandung. Jurnal Keperawatan Komprehensif (Comprehensive Nursing Journal), 3(1), 52–62. https://doi.org/10.33755/jkk.v3i1.85
Jafri, Y. (2015). Pemberian Terapi Bermain dengan Teknik Bercerita Terhadap Kooperatif anak Usia Pra Sekolah.
Notoadmodjo, S. (2012). Metodologi penelitian kesehatan. Rineka Cipta.
Pernomo, D. I. S. H., & Prawesti, D. (2017). Penurunan Stress Hospitalisasi pada Anak Prasekolah dengan Terapi Bermain di Rs.Baptis Kediri. JURNAL STIKES RS Baptis Kediri, 10(2), 89–160.
Rahayu. (2018). Penerapan terapi bermain puzzle terhadap tingkat kecemaan pada hospitalisasi anak usia prasekolah di bangsal dahlia RSUD wonosari. In Karya Tulis Ilmiah Penerapan. http://poltekkesjogja.ac.id
Rezki Ramadhani. (2018). Pengaruh Terapi Musik Klasik Mozart Terhadap Intensitas Nyeri Pada Pasien Pasca Operasi Seksio Sesarea Di Rskd Ibu Dan Anak Siti Fatimah Makassar. c, 1–43.
Studi, P., Guru, P., Dasar, S., Pendidikan, J. I., Keguruan, F., Ilmu, D. A. N., & Bengkulu, U. (2016). Penerapan Metode Role Playing ( bermain peran ) dengan Menggunakan Media Film Dokumenter untuk Meningkatkan Aktivitas dan Hasil Belajar IPS ( PTK Kelas VB SD Negeri 68 Kota Bengkulu ).
Sumarni, N., Yuliana, Y., & Sari, yuppi rosmala. (2018). Hubungan Kehadiran Orang Tua Dengan Kecemasan Anak Saat Pemberian Obat Iv Line Di Rsu Garut. Jurnal Dunia Kesmas, 7(3), 146–155.
Utami, Y., Tinggi, S., & Kesehatan Binawan, I. (2014). Dampak Hospitalisasi Terhadap Perkembangan Anak. Jurnal Ilmiah WIDYA, 2, 9–20.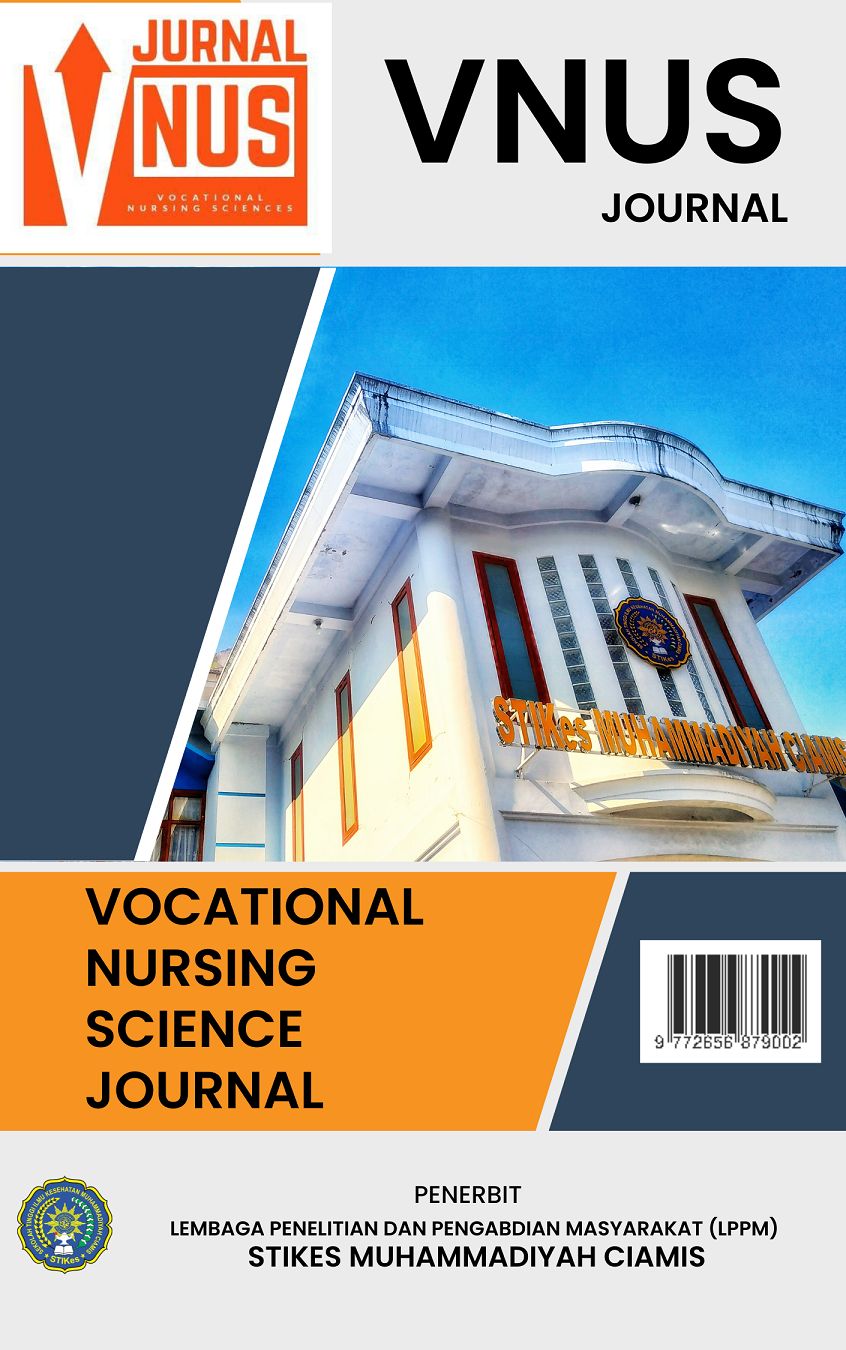 Downloads
How to Cite
Wahab, M., Najamuddin, N. I., & Niar. (2019). The Effect Of Play Therapy on Drug-taking Behavior In Toddlers In Pediatric Care Room. JURNAL VNUS (Vocational Nursing Sciences), 1(2), 32–38. https://doi.org/10.52221/jvnus.v1i2.149
License
Copyright (c) 2019 JURNAL VNUS (Vocational Nursing Sciences)
This work is licensed under a Creative Commons Attribution 4.0 International License.