Application of Acupressure Therapy to Increase Breast Milk Production in Spontaneous Post Partum Mothers
Keywords:
acupressure, breastfeeding, post partum
Abstract
Introduction: Acupressure is a non-pharmacological technique that can increase breast milk production, which is useful for increasing body stamina, improving blood circulation, reducing pain, reducing stress, or calming the mind. Acupressure serves to increase the hormone oxytocin, which can calm the mother, so that breast milk comes out by itself. Objective: This case study is to determine the effectiveness of acupressure therapy in increasing breast milk production in spontaneous postpartum clients. Method: This study uses a case study design with a nursing care approach that focuses on nursing interventions. The research was conducted in Teratai Room 2, RSUD Banjar City, from June 2, 2023, to June 4, 2023. The participants in this study were Mrs. W, 32 years old, a woman who complained that her milk production was low. The nursing process is focused on the main problem, namely ineffective breastfeeding. Objective data and subjective data are used as references on a regular basis to obtain results when an assessment is carried out. The instruments used were leaflets, observation sheets, and all the tools used in physical examinations. The focus of the intervention was the application of acupressure therapy to increase breast milk production in spontaneous postpartum mothers. Result: This case study is supported by objective and subjective data. The objective data obtained were that the patient admitted that the breasts did not feel tight, the breasts were clean, there were no lesions or redness, blood pressure 120/80 mmHg, temperature 36.6oC, pulse 86 x/min, respiration 20 x/min. subjective data, namely the recognition of patients complaining of very little milk expenditure. Conclusion: The intervention is thought to be effective against the effect of acupressure therapy on increasing milk production in postpartum patients. Theoretically, this research does not conflict with previous research, so it can be used as a reference in future research. Meanwhile, clinically, interventions made for ineffective breastfeeding problems can be an alternative to eliminating nursing problems in hospitals, health centers, or other health clinics.
Downloads
Download data is not yet available.
References
Ainun Sajidah, Ramie, A., & Sa'adah, G. (2021). Literature Review Pengaruh Akupresur Pada Ibu Menyusui Terhadap Peningkatan Kecukupan Asupan Asi Bayi. Jurnal Ilmu Kesehatan Insan Sehat, 9(2), 101–108. https://doi.org/10.54004/jikis.v9i2.33
Anggraeni, T. R., Dewi, N. R., & kesuma Dewi, T. (2021). PENERAPAN PIJAT OKSITOSIN UNTUK MENINGKATKAN PENGELUARAN ASI PADA IBU POST PARTUM DI WILAYAH KERJA PUSKESMAS KOTA METRO. Jurnal Cendikia Muda, 1(3), 361–371.
Ashari, A., & Kusmiyati, Y. (2022). Effect of Acupressur and Oxytocin Massage on Output Time and Adequacy Of Breast Milk in Post Partum Mothers at Panembahan Senopati Hospital, Bantul. Jurnal Kebidanan Kestra (JKK), 5(1), 37–44.
Ene, S. K., Hadi, S. P. I., & Kusumawardani, L. A. (2022). Pengaruh Terapi Akupresur terhadap Peningkatan Produksi Asi pada Ibu Post Partum: Systematic Literature Review. Malahayati Nursing Journal, 4(8), 2070–2087.
Febriana, S. (2022). Pelaksanaan Terapi Akupresur pada Ibu Post Partum Spontan dengan Ketuban Pecah Dini di RSUD Arjawinangun. Politeknik Kesehatan Tasikmalaya.
Ida, R., Susaldi, S., & Sari, A. (2023). Pengaruh Riwayat Pemberian ASI Eksklusif , Sanitasi Dan Pola Asuh Orangtua Terhadap Stunting Pada Balita Di Wilayah Kerja Puskesmas Kelurahan Pulau Panggang Kepulauan Seribu Tahun 2023. 1(3).
Irfani, R. F. (2021). APLIKASI TINDAKAN AKUPRESUR TERHADAP KETIDAKEFEKTIFAN PEMBERIAN ASI PADA IBU POST PARTUM DI WILAYAH KERJA KLINIK HARAPAN SEHAT CIANJUR. Universitas Muhammadiyah Sukabumi.
Jannah, M. (2020). Asuhan Keperawatan Pada Ny. Y Post Partum Dengan Persalinan Spontan Indikasi Ketuban Pecah Dini Diruang Kenari Rumah Sakit Daerah Kalisat Kabupaten Jember. Universitas Muhammadiyah Jember.
Masdinarsah, I. (2019). Pengaruh Akupresur Terhadap Pengeluaran Air Susu Ibu (Asi) Pada Ibu Nifas Di Bidan Praktik Mandiri Bidan M Desa Cipinang Kecamatan Cimaung Kabupaten Bandung. Jurnal Asuhan Ibu Dan Anak, 4(1), 23–29.
Nislawaty, N., Hastuty, M., & Ningsih, N. F. (2021). Efektifitas Relaksasi Titik Acupresure Pada Titik Laktasi Terhadap Peningkatan Produksi Asi Pada Ibu Nifas di PMB Nislawaty Desa Ridan Permai Kecamatan Bangkinang Kota Tahun 2020. Jurnal Ners Universitas Pahlawan, 5(2), 11–15.
Permana, G. G. S., Budiarti, K. D., & Pusppitasari, T. (2018). Efektifitas Pijat Oksitosin terhadap Produksi Air Susu Ibu (ASI) pada Ibu Post Partum Sectio Caesaria (SC) di Ruang Kalimaya Bawah RSUD dr. Slamet Garut. Jurnal Medika Cendikia, 5(02), 106–116. https://doi.org/10.33482/medika.v5i02.85
Pertiwi, D. Y. P. (2018). APLIKASI AKUPRESUR PADA NY. N DENGAN KETIDAKEFEKTIFAN PEMBERIAN ASI DI DUSUN BLANTEN DUKUN MAGELANG. Skripsi, Universitas Muhammadiyah Magelang.
Rahayu, D., & Yunarsih, Y. (2018). Penerapan Pijat Oksitosin Dalam Meningkatkan Produksi ASI Pada Ibu Postpartum. Journals of Ners Community, 09, 8–14.
Ramadani, D., Zaen, N. L., & Hayati, N. (2019). Pengaruh Akupresur terhadap Peningkatan Produksi ASI pada Ibu Nifas di Klinik Bersalin Trismaliah Desa Laut Dendang Kecamatan Medan Tembung Tahun 2019. SINTAKS (Seminar Nasional Teknologi Informasi Komputer Dan Sains 2019), 1(1), 382–390.
Rohmah, M., Wulandari, A., & Sihotang, D. W. (2019). Efektivitas Kompres Daun Kubis (Brassica Oleracea) terhadap Skala Pembengkakan Payudara pada Ibu Post Partum di PMB Endang Kota Kediri. Journal for Quality in Women's Health, 2(2), 23–30. https://doi.org/10.30994/jqwh.v2i2.34
Sari, N. N. R. I. (2023). PENGARUH TEKNIK AKUPRESUR TERHADAP PENINGKATAN PRODUKSI ASI PADA IBU NIFAS DI PMB WILAYAH PUSKESMAS ABIANSEMAL 1 BADUNG. STIKES BINA USADA BALI.
Setianingrum, R. (2018). ASUHAN KEPERAWATAN IBU POSTPARTUM DENGAN APLIKASI ACUPRESSURE POINTS FOR LACTATION UNTUK MENINGKATKAN PRODUKSI ASI DI RUMAH SAKIT ROEMANI MUHAMMADIYAH SEMARANG. Universitas Muhammadiyah Semarang.
Umbarsari, D. (2017). Efektifitas Pijat Oksitosin Terhadap Pengeluaran Asi Di Rsia Annisa Tahun 2017. JI-KES (Jurnal Ilmu Kesehatan), 1(1).
Wulandari, P., Menik, K., & Khusnul, A. (2018). Peningkatan Produksi ASI Ibu Post Partum melalui Tindakan Pijat Oksitosin. Jurnal Ilmiah Keperawatan Indonesia [JIKI], 2(1), 33. https://doi.org/10.31000/jiki.v2i1.1001
Yani, D. P., Istiqomah, S. B. T., & Retnowuni, A. (2022). Efektifitas Terapi Pijat Laktasi Oksitosin dan Akupresur Titik Zhongfu terhadap Produksi ASI pada Ibu Post Partum. JURNAL ILKES (Jurnal Ilmu Kesehatan), 13(1), 63–74.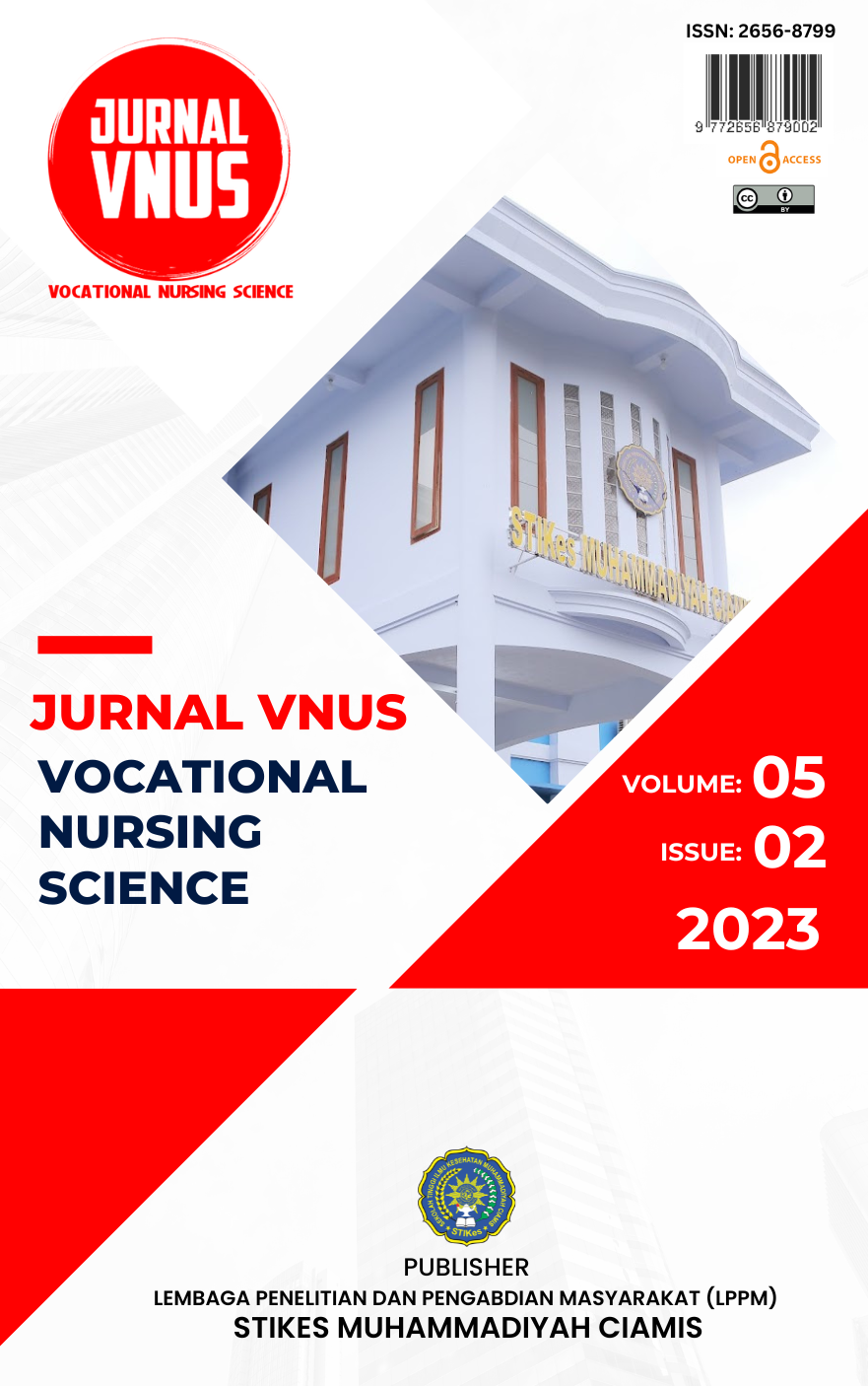 Downloads
How to Cite
El Haque, I. T., Roslianti, E., Fitriani, A., & Lestari, I. D. (2023). Application of Acupressure Therapy to Increase Breast Milk Production in Spontaneous Post Partum Mothers. JURNAL VNUS (Vocational Nursing Sciences), 5(2), 83–92. https://doi.org/10.52221/jvnus.v5i2.257
License
Copyright (c) 2023 Iif Taufiq El Haque, Elis Roslianti, Ade Fitriani, Indah dwi lestari Ahmad
This work is licensed under a Creative Commons Attribution 4.0 International License.