Implementation of Deep Breath Relaxation Techniques As An Effort to Overcome Shortness Of Breath in Congestive Heart Failure Patients
Keywords:
congestive heart failure, deep breathing relaxation, ineffective breathing patterns
Abstract
Introduction: Congestive heart failure (CHF) is a cardiovascular disease that is defined as a deadly disease in the world. CHF is a condition in which the heart is unable to pump blood to meet the needs of oxygen and nutrients in the body's tissues.
Objective: To present care with deep breathing relaxation interventions as an effort to overcome shortness of breath in congestive heart failure patients with ineffective breathing patterns.
Method: The research design used is descriptive analysis with a case study approach. Subjects in this case study were adult patients with congestive heart failure (CHF) and ineffective breathing patterns. Data collection techniques include interviews, observation, physical examination, and documentation studies.
Result: The case study at the assessment stage found that the client complained of shortness of breath. The intervention and implementation used to reduce shortness of breath is by providing breathing relaxation exercises for 10 minutes when complaints of shortness of breath are felt. After the intervention, the client's breathing frequency decreased from 28 x/minute to 22 x/minute, while the subjective data from the anamnesis showed that the client's shortness of breath was reduced.
Conclusion: Nursing care for patients with congestive heart failure (CHF) and shortness of breath is well managed. Providing deep breathing relaxation interventions is effective in reducing respiratory frequency.
Downloads
Download data is not yet available.
References
Blesinki, M., Suza, D. E., & Tarigan, M. (2022). Pengalaman Pasien Penyakit Ginjal Kronik yang Menjalani Hemodialisis dalam Mengikuti Asupan Diet dan Cairan: Studi Fenomenologi. Journal of Telenursing (JOTING), 4(2), 968–987.
Dinas Kesehatan Kota Tasikmalaya. (2018). Profil kesehatan Kota Tasikmalaya.
Fadhila, W., & Handayani, A. (2022). PERBEDAAN KARAKTERISTIK PASIEN CHF (CHRONIC HEART FAILURE) PADA USIA DEWASA DAN USIA LANJUT SERTA HUBUNGANNYA DENGAN KEMATIAN SELAMA PERAWATAN. JURNAL ILMIAH SIMANTEK, 6(3), 53–57.
Kementrian Kesehatan RI. (2020). kemenkes RI. Petunjuk Teknis Pelayanan Puskesmas Pada Masa Pandemi.
Lippi, G., & Sanchis-Gomar, F. (2020). Global epidemiology and future trends of heart failure. AME Med J, 5(15), 1–6.
Megasari, A. L. (2022). 2.4 Asuhan Keperawatan dengan masalah kesehatan kardiovaskuler. Keperawatan Kegawatdaruratan Dan Manajemen Bencana, 19.
Nirmalasari, N. (2017). Deep Breathing Exercise and Active Range of Motion Effectively Reduce Dyspnea in Congestive Heart Failure Patients. NurseLine Journal, 2(2), 159–165.
Nurhayati, N., Andari, F. N., Fredrika, L., Wijaya, A. K., & Yanti, L. (2022). Upaya Peningkatan Aktifitas Fisik Melalui Latihan the Six-minute Walk Pada Penderita Gagal Jantung. Jurnal of Community Health Development, 3(1), 34–39.
Rahmat, A. S. (2018). FACTORS ASSOCIATED WITH THE OCCURRENCE OF PREVENTION EFFORTS TO HEART FAILURE IN CLIENTS HYPERTENSION AT RSUD BEKASI 2017. Jurnal Ilmiah Keperawatan, 7(1).
Rahmatiana, F., & Clara, H. (2019). Asuhan Keperawatan Pada Pasien Tn. A Dengan Congestive Heart Failure. Buletin Kesehatan: Publikasi Ilmiah Bidang Kesehatan, 3(1), 7–25.
Riskesdas. (2018). Hasil Utama Riskesdas 2018.
Rispawati, B. H. (2019). Pengaruh Konseling Diet Jantung Terhadap Pengetahuan Diet Jantung Pasien Congestive Heart Failure (CHF). Real in Nursing Journal, 2(2), 77–85.
Siregar, C. T. (2020). Buku ajar manajemen komplikasi pasien hemodialisa. Deepublish.
Tanzila, M., Susyanti, D., & Pratama, M. Y. (2022). Pendidikan Kesehatan Tentang Diet Jantung Pada Pasien CHF (Congestive Heart Failure). Jurnal Keperawatan Flora, 15(1), 47–53.
Utami, N., Haryanto, E., & Fitri, A. (2019). Fatigue pada Pasien Gagal Jantung di Ruang Rawat Inap Rsau Dr. M. Salamun. Jurnal Ilmiah JKA (Jurnal Kesehatan Aeromedika), 5(2), 63–71.
World Health Organization. (2020). WHO reveals leading causes of death and disability worldwide: 2000–2019. World Health Organization (WHO), 1.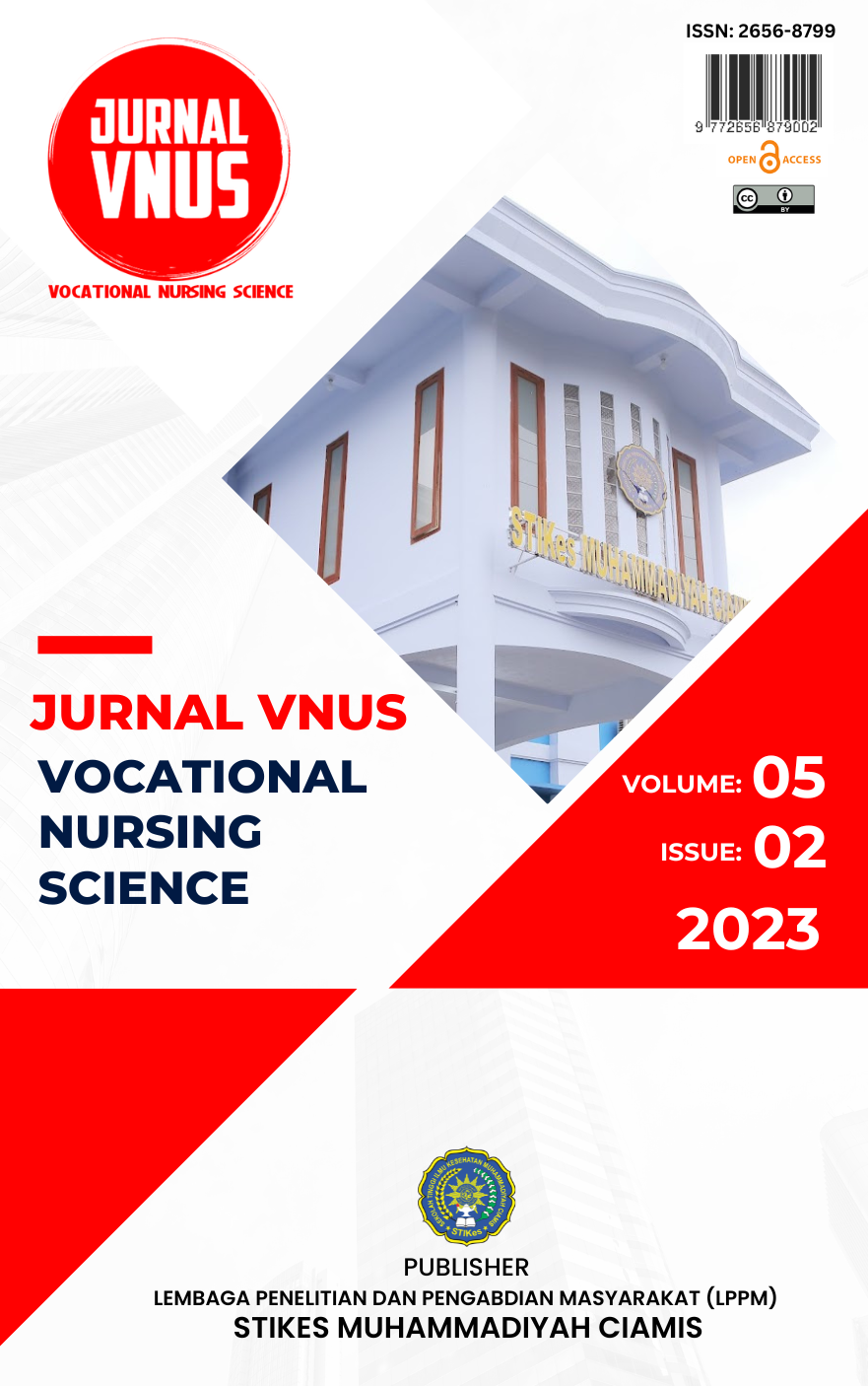 Downloads
How to Cite
Gunawan, A., Hidayat, N., & Siti Rahmah, S. (2023). Implementation of Deep Breath Relaxation Techniques As An Effort to Overcome Shortness Of Breath in Congestive Heart Failure Patients. JURNAL VNUS (Vocational Nursing Sciences), 5(2), 74–82. https://doi.org/10.52221/jvnus.v5i2.338
License
Copyright (c) 2023 Asep Gunawan, Nur Hidayat, Sinta Siti Rahmah
This work is licensed under a Creative Commons Attribution 4.0 International License.