The Effect of PHBS Education with Animated Videos on Students' Knowledge Levels
Keywords:
PHBS Education, Video Animation, Knowledge Level
Abstract
Background: Clean and Healthy Living Behavior (PHBS) is a program aimed at changing people's behavior so that it does not lead to unhealthy behavior. Nationally, it was found that the proportion of those with good PHBS did not increase by half (41.3%). The results of the PHBS Initial Knowledge Survey at Mts Nurul Iman School obtained a score of 60% in the fair category, less than 30%, and 10% in the good category. In order to achieve the highest scientific level, it is necessary to establish education at the scientific level of the students at Mt. Nurul Iman. Objective: To find out whether or not there is an influence of PHBS education with animated videos on the level of knowledge of Mts Nurul Iman students. Method: quantitative with a Quasi experiment with a two-group pretest posttest with a control group design with a population of 240 and a sample of 150 using the Slovin formula with an error rate of 5%. Results: This study used the Wilcoxon test, p-value 0.000 <0.05, and found that there was an effect of PHBS education with animated videos on the level of knowledge. Conclusion: In this study, the results of the pre-test were in the average category (90.7%) and the post-test results were in the good category (80%). Suggestion: For Other Researchers This research is expected to be used as basic data for similar research, and this research is expected to provide input for future research in making other studies.
Downloads
Download data is not yet available.
References
Sulistyani, Suhandinata, F., & Rezi, A. H. (2020). Pengaruh Edukasi Perilaku Hidup Bersih Dan Sehat Terhadap Tingkat Pengetahuan Pada Siswa Madrasah Ibtidaiyah Muhammadiyah Sragen. 111–116.
Annisa, Z., Lundy, F., Lala, H., & Malang, P. K. (2022). PENGARUH EDUKASI VIDEO ANIMASI 7 LANGKAH CTPS TERHADAP TINGKAT PENGETAHUAN DAN TINDAKAN DALAM. 11(2), 159–168.
Kusumahwardani, D., Pramadi, A., & Maspupah, M. (2022). Peningkatan Hasil Belajar Siswa Menggunakan Video Animasi Audiovisual Berbasis Animaker Pada Materi Sistem Gerak Manusia. Jurnal Educatio FKIP UNMA, 8(1), 110–115. https://doi.org/10.31949/educatio.v8i1.1665
Salsabila, A. A., Lala, H., & Suharno, B. (2022). Pengaruh Edukasi Kesehatan Phbs Di Sekolah Terhadap Peningkatan Pengetahuan Siswa Kelas 3 Sd. Jurnal Informasi Kesehatan Indonesia (JIKI), 8(2), 157.
Tamba, D. (2019). Gambaran Pengetahuan Tentang Perilaku Hidup Bersih dan Sehat Di SD Negeri Cinta Maju Kabupaten Samosir. Journal of Chemical Information and Modeling, 53(9), 1689–1699.
Zarkasyi SD. Pengaruh Pemberian Booklet Pemilihan Jajanan Sehat Sebagai Media Edukasi Terhadap Tingkat Pengetahuan, dan Sikap Anak Usia Sekolah Di SDN 1 Sempalwadak Kecamatan Bululawang Kabupaten Malang. 2019;
Afridzal, A. (2018). Perbedaan Hasil Belajar Menggunakan Media Gambar Dan Video Animasi Pada Materi Karangan Deskripsi Di Kelas III SD Negeri 28 Banda Aceh. Jurnal Tunas Bangsa, 5(2), 231–247. https://ejournal.bbg.ac.id/tunasbangsa/article/view/949.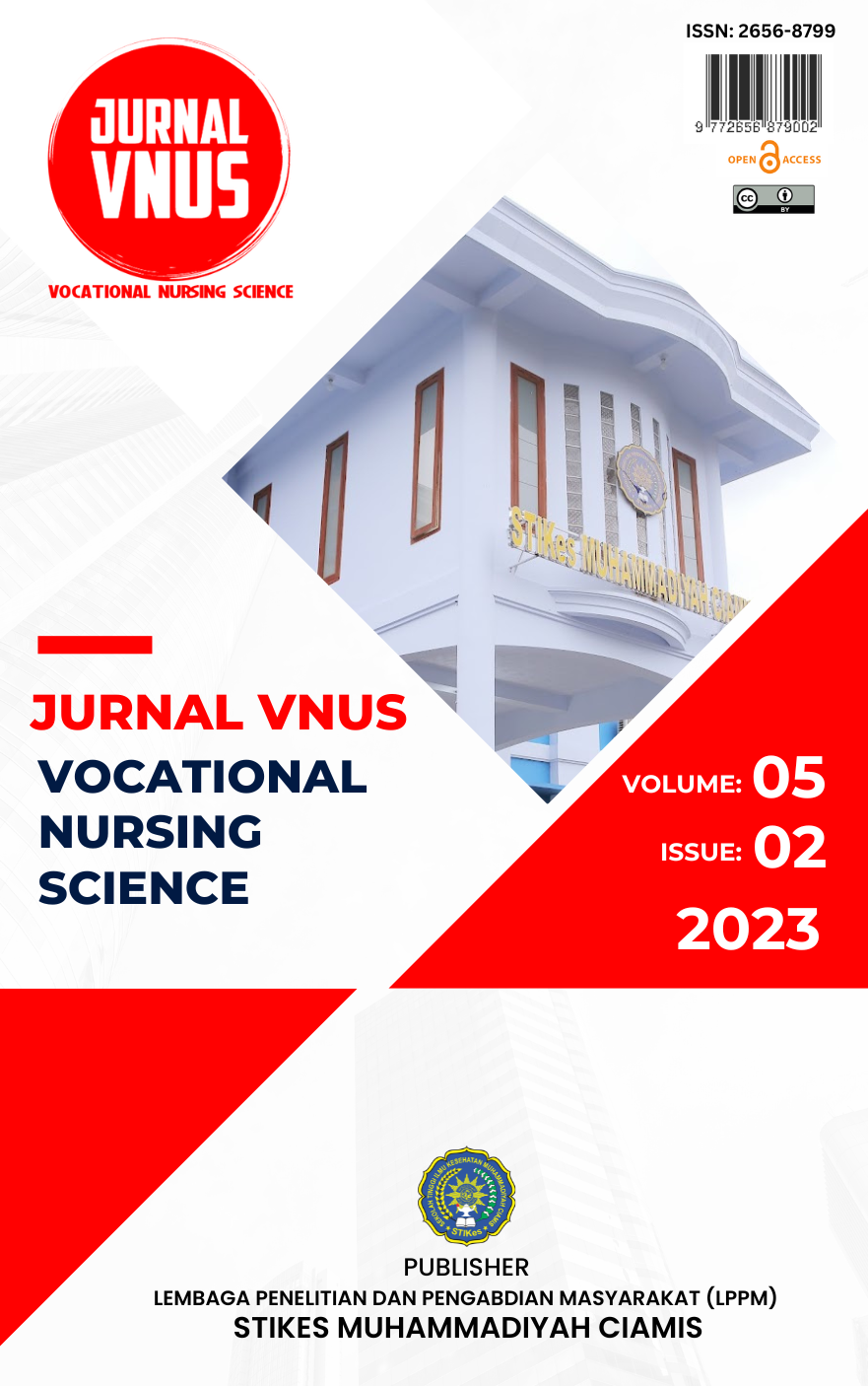 Downloads
How to Cite
Shofa, G. Z., Diel, M. M., & Faridah, I. (2023). The Effect of PHBS Education with Animated Videos on Students' Knowledge Levels. JURNAL VNUS (Vocational Nursing Sciences), 5(2), 46–52. https://doi.org/10.52221/jvnus.v5i2.398
License
Copyright (c) 2023 Gaitsa Zahira Shofa, M. Martono Diel, Ida Faridah
This work is licensed under a Creative Commons Attribution 4.0 International License.