Screening of Pulmonary Tuberculosis in Household Contacts With Acid Fast Bacteria (AFB) Positive Pulmonary Tuberculosis Patients in Ciwangi Village, Balubur Limbangan Subdistrict, Garut District
Keywords:
Screening, Tuberculosis, Mycobacterium tuberculosis
Abstract
Background & Objective Tuberculosis is an infectious disease caused by acid-fast bacteria, namely Mycobacterium tuberculosis, which mainly attacks the lungs. Pulmonary tuberculosis is a global health problem with the second deadliest case after HIV/AIDS infection, and ranks third with the most TB cases after India and China. The main source of transmission is patients with active TB pulmonary tuberculosis who can transmit to people around them. This study aims to determine whether pulmonary TB transmission occurs in people who are in household contact with patients with acid-fast bacteria pulmonary TB active.
Method This study is descriptive, using the Ziehl neelsen examination method, with a total sampling technique, conducted on 34 people who are in household contact with pulmonary TB patients in Ciwangi Village, Balubur District, Limbangan.
Result Based on the examination results in people who are in contact with people with TB, the results are negative, the presence of the bacteria that cause TB.
Conclusion The results of Pulmonary Tuberculosis screening conducted on 34 people from 13 heads of families, it can be concluded that the results of TB microscopy with the Ziehl neelsen technique were negative.
References
Bilqishti, A. F., Sumekar, D. W., & Larasati, T. A. (2020). Determinan Sosial Pasien Tuberkulosis Sebagai Faktor Resiko Penularan Tuberkulosis Riwayat Kontak Serumah di Wilayah Kerja Puskesmas Panjang dan Sukaraja. Medical Profession Journal of Lampung, 10(1), 78–83.
Budi, I. S., Ardillah, Y., Sari, I. P., & Septiawati, D. (2018). Analisis Faktor Risiko Kejadian penyakit Tuberculosis Bagi Masyarakat Daerah Kumuh Kota Palembang. Jurnal Kesehatan Lingkungan Indonesia, 17(2), 87–94.
Buntuan, V. (2014). Gambaran Basil Tahan Asam (BTA) positif pada penderita diagnosa klinis tuberkulosis paru di rumah sakit islam Sitti Maryam Manado periode Januari 2014 s/d Juni 2014. EBiomedik, 2(2).
Firmansyah, Y., Hendsun, H., Destra, E., & Aditya, B. (2021). Skrining Faktor Risiko Penularan Penyakit Tuberculosis Paru di RW 001 di Puskesmas Kelurahan Kedaung Kali Angke. Jurnal Medika Hutama, 2(03 April), 960–972.
Fristanti, R. (2020). Analisis Faktor Risiko Penularan Tuberkulosis Paru Pada Penderita Tuberkulosis Paru Basil Tahan Asam Positif Di Wilayah Kerja Uptd Puskesmas Tampa. Universitas Islam Kalimantan MAB.
Kemenkes, R. I. (2019). Saatnya Indonesia Bebas TBC.
Pangestika, R., Fadli, R. K., & Alnur, R. D. (2019). Edukasi pencegahan penularan penyakit TB melalui kontak serumah. Jurnal Solma, 8(2), 229.
Pungky, P. P. (2017). Peran Keluarga Untuk Mencegah Penularan TB Paru dalam Keluarga di wilayah Kerja Puskesmas Geger Kabupaten Madiun. STIKES Bhakti Husada Mulia.
Ramadhan, R., Fitria, E., & Rosdiana, R. (2017). Deteksi mycobacterium tuberculosis dengan pemeriksaan mikroskopis dan teknik pcr pada penderita tuberkulosis paru di puskesmas darul imarah. Sel Jurnal Penelitian Kesehatan, 4(2), 73–80.
Sukarna, N., Lukman, M., & Sari, S. P. (2015). Faktor-Faktor Yang Berhubungan Dengan Perilaku Skrining TB Pada Kontak Serumah di Kabupaten Pandeglang. Jurnal Medika Cendikia, 2(02), 1–9.
Valeska, D. A., Umbara, F. R., & Sabrina, P. N. (2022). Diagnosa Gejala yang Muncul Bersamaan pada Penderita Tuberculosis Menggunakan Algoritma Apriori dengan Substitusi Metode Bayesian pada Nilai Confidence. Jurnal Teknologi Informatika Dan Komputer, 8(1), 318–332.
Yudiana, R., & Garna, H. (2022). Hubungan Jarak Rumah ke Puskesmas dengan Kepatuhan Pengobatan Pasien Tuberkulosis Paru di Puskesmas Patokbeusi Subang. Bandung Conference Series: Medical Science, 2(1), 14–17.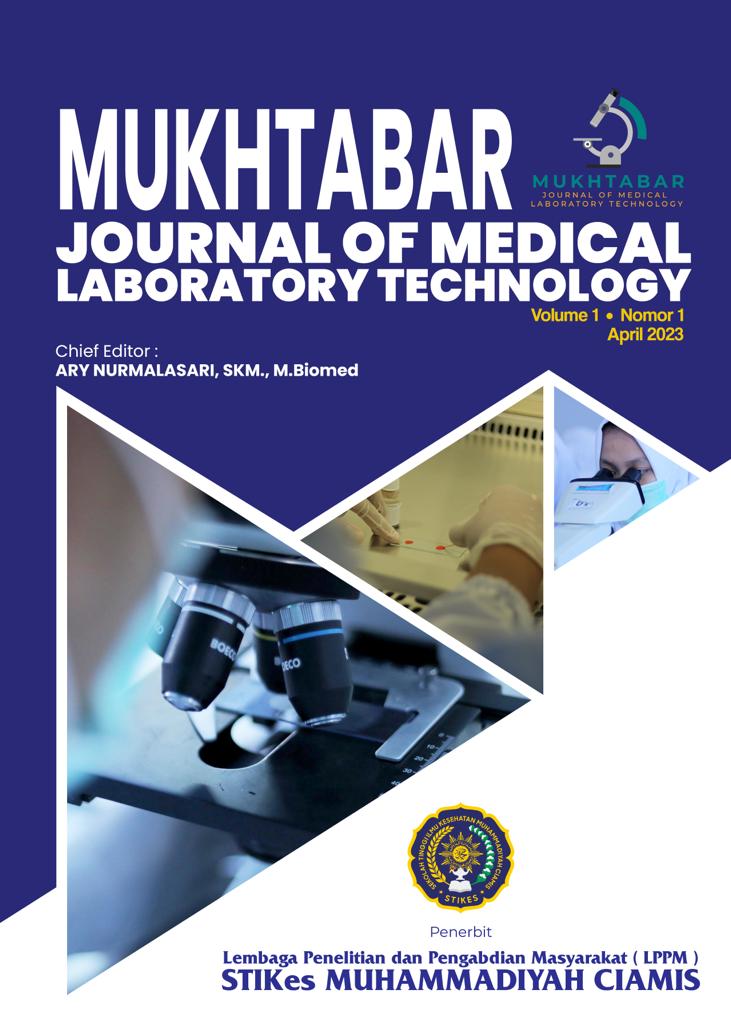 Downloads
How to Cite
Nuriah, S., Ruhimat, U., Aryadi, R. ., & Mutmainah, R. . N. . (2023). Screening of Pulmonary Tuberculosis in Household Contacts With Acid Fast Bacteria (AFB) Positive Pulmonary Tuberculosis Patients in Ciwangi Village, Balubur Limbangan Subdistrict, Garut District. Mukhtabar : Journal of Medical Laboratory Technology, 1(1), 19–25. https://doi.org/10.52221/mjmlt.v1i1.218
License
Copyright (c) 2023 Shinta Nuriah, Undang Ruhimat; Rivana Aryadi, Rahayu Nirmatul Mutmainah
This work is licensed under a Creative Commons Attribution 4.0 International License.