Reumatoid Factor Examination in Thalassemia Patients
Keywords:
Transfusion, Rheumatoid Arthritis, Iron
Abstract
Background & Objective  Patients with thalassaemia major with severe anaemia must receive blood transfusions for life. Giving continuous blood transfusions can cause iron accumulation in body tissues so that it can conclude complications, one of which is rheumatoid arthritis due to iron deposition in synovial tissue.
This study is to determine the results of rheumatoid factor examination in thalassaemia patients with blood transfusion therapy.
Method the research used is descriptive. The sampling technique uses incidental with a large number of samples as many as 66.
Result Based on the results of the study obtained positive results as many as 11 (17%) people with an average Rheumatoid Factor level of 29 IU/mL, and negative results as many as 55 (83%) people.
Conclusion Thalassaemia patients with blood transfusion therapy show the risk of rheumatoid arthritis with positive results of rheumatoid factor examination.
References
Anies. (2020). Berbagai Penyakit pada Usia Lanjut dan Upaya Mengatasinya. Jakarta: Gosyen Publishing.
Data Kunjungan Pasien Thalasemia Ciamis, 2021.
Elsi, M. (2018). Gambaran faktor dominan pencetus arthritis rheumatoid di wilayah kerja puskesmas danguang danguang payakumbuh tahun 2018. Menara Ilmu, 12(8).
Hutahaen, F. V. A., & Hendrianingtyas, M. (2017). Hubungan jumlah transfusi dengan kadar TSH pada thalassemia. JURNAL KEDOKTERAN DIPONEGORO (DIPONEGORO MEDICAL JOURNAL), 6(2), 558–566.
Malpartida, M. E., Mateos, C. B., Giraldez, C. R., Robles, B. J. F., Vioque, E. G., Argumanez, C. M., Palop, M. J., Sanz, J. S., Tundidor, H. G., & Esteban, J. C. (2017). AB0986 Family mediterranean fever gene mutations: a poorly studied cause of intermittent hydrartrosis. BMJ Publishing Group Ltd.
Nardin, E. De. (2014). Imunologi dan Serologi Klinis Modern. Jakarta: Buku Kedokteran EGC.
Rochman, F., Mulyantari, N. K., & Sutirtayasa, I. W. P. (2019). Hubungan Jumlah Transfusi Darah dan Penggunaan Kelasi Besi dengan Kadar Feritin pada Pasien Talasemia. E-Journal Medika Udayana.
Rohimah, S., & Puspasari, F. (2020). Ketercapaian Tranfusi Pada Pasien Talasemia Mayor Di Rumah Sakit Umum Daerah Ciamis Tahun 2018. Jurnal Keperawatan Galuh, 2(1), 31–36.
Setiawan, D., Farihatun, A., & Nurmalasari, A. (2020). Skrining Talasemia Beta Minor pada Pelajar SMK di Kecamatan Ciamis. Jurnal Kesehatan Vokasional, 5(3), 180–188.
Sukri, A. (2016). Mengenal Mendampingi & Merawat Thalasemia. Bee Media Pustaka. Jakarta.
Wibowo, D. A. (2019). Gambaran Ketercapaian Transfusi Darah Sesuai Standar Operasional Prosedur pada Pasieen Thalasemia Mayor di Rumah Sakit Umum Daerah Ciamis. Jurnal Kesehatan Bakti Tunas Husada: Jurnal Ilmu-Ilmu Keperawatan, Analis Kesehatan Dan Farmasi, 19(2), 236–255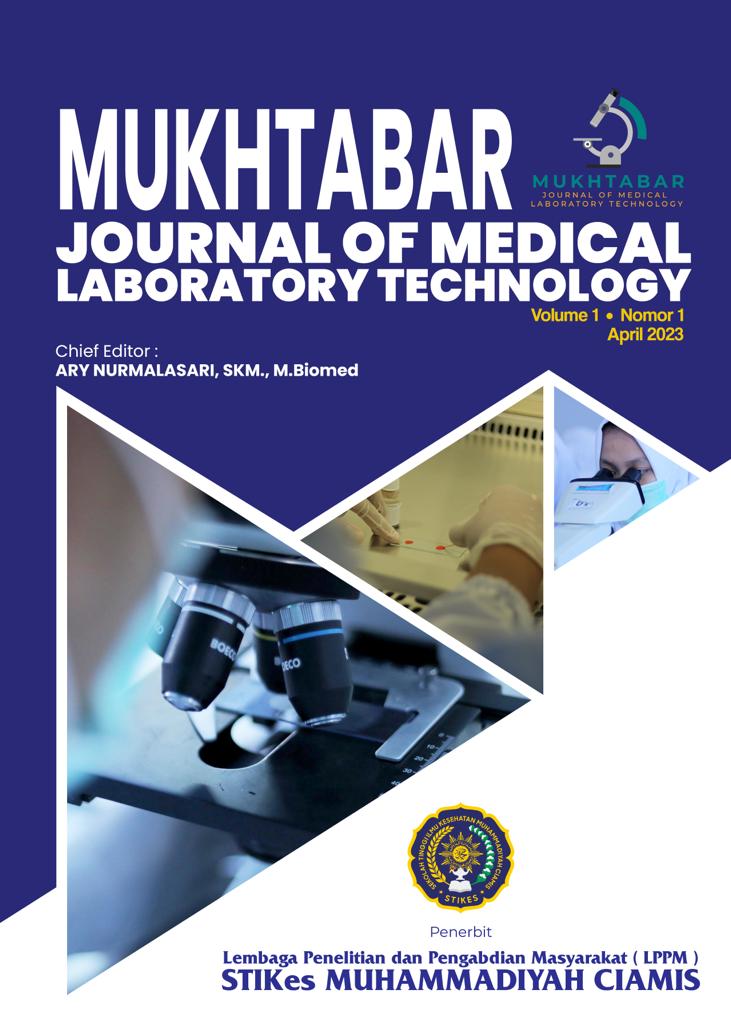 Downloads
How to Cite
Setiawan, D. ., Hiytulmadani , V. O. ., & Farihatun, A. (2023). Reumatoid Factor Examination in Thalassemia Patients. Mukhtabar : Journal of Medical Laboratory Technology, 1(1), 34–38. https://doi.org/10.52221/mjmlt.v1i1.227
License
Copyright (c) 2023 Doni Setiawan, Via Oktaviani Hiytulmadani ; Atun Farihatun
This work is licensed under a Creative Commons Attribution 4.0 International License.