Nursing Care For Preeclampsia in Pregnant Women With Warm Water Foot Bath Hydrotherapy Interventions
Keywords:
Preeclampsia, blood pressure, warm water hydrotherapy
Abstract
Preeclampsia is an increase in blood pressure which is usually one of the complications experienced by pregnant women, the accumulation of fluid in one of the tissues, hydrotherapy action is very suitable for use because it is more practical so that it can be done independently and does not have dangerous side effects, The purpose in this study is to be able to carry out nursing care comprehensively with pain clients with hydrotherapy soak using warm water The method of research is descriptive case study method, by managing one client using the nursing process approach. The resultse in the study The implementatin of the implementation was carried out for 3 days, with the provision of hydrotherapy soaking the feet using warm water very effectively given to clients with preeclampsia and complaining of pain The conclusion is that hydrotherapy using warm water is very effective given to pregnant women so that it can reduce the pain felt.
References
Aryani, N. (2020). Penurunan tekanan darah wanita hamil dengan perendaman kaki air hangat. 15(2), 80–88.
Aryani, N., & Zayani, N. (2020). Penurunan Tekanan Darah Wanita Hamil dengan Perendaman Kaki Air Hangat. Jurnal Sehat Mandiri, 15(2), 81–89. https://doi.org/10.33761/jsm.v15i2.294
Asadi, F., Simbar, M., Zahrani, S. T., & Nasiri, M. (2023). An investigation and comparison of the effects of self-care education with effleurage massage of feet, hydrotherapy, and leg elevation on the physiological status of the feet in pregnant women: A Randomized Clinical Trial.
Kuswantoro, E. (2022). PENGARUH MERENDAM KAKI MENGGUNAKAN AIR HANGAT DENGAN CAMPURAN GARAM DAN SERAI TERHADAP PENURUNAN TEKANAN DARAH PADA PENDERITA HIPERTENSI. Universitas Widya Husada Semarang.
Noviati, E., Kurniawan, R., Srinayanti, Y., Sukmawati, I., Lestari, G. D., & Anisa, F. (2023). The Effect of Quran-Recited Water Therapy on Lowering Blood Pressure among Elderlies with Hypertension. 5(X).
Nurapandi, A., Rahayu, Y., Sukmawati, I., & Firdaus, N. R. (2022). Education about Stunting for Pregnant Women and Productive Couples under 35 Years. Kolaborasi, 2(2), 141–146. https://journal.inspira.or.id/index.php/kolaborasi/article/view/82
Sholekha, L., Jubaedah, E., & Nurcahyani, L. (2021). the Effect of Hydrotherapy on the Reduction of Blood Pressure in Pregnant Women With Hypertension At the Primary Health Careastanajapura Cirebon District in 2019. International Seminar of Gender Equity Maternal and Child Health, 1(1), 109–121.
Srinayanti, Y., Anggraeni, S., Litasari, R., & Lismayanti, L. (2023). The Relationship Between Pregnancy Discomfort and Physical Activity of Third Trimester Pregnant Women. Asy-Syifa: Journal of Science and Technology Nursing, 1(2), 51–56.
Susanti, H. D., Laksito, V. A., Handayani, T. L., & Harini, R. (2023). Signs, Symptoms, and Management of Maternity Nursing Care in Post Sectio Caesarea with Indications of Preeclampsia: A Case Report. KnE Medicine, 15–27.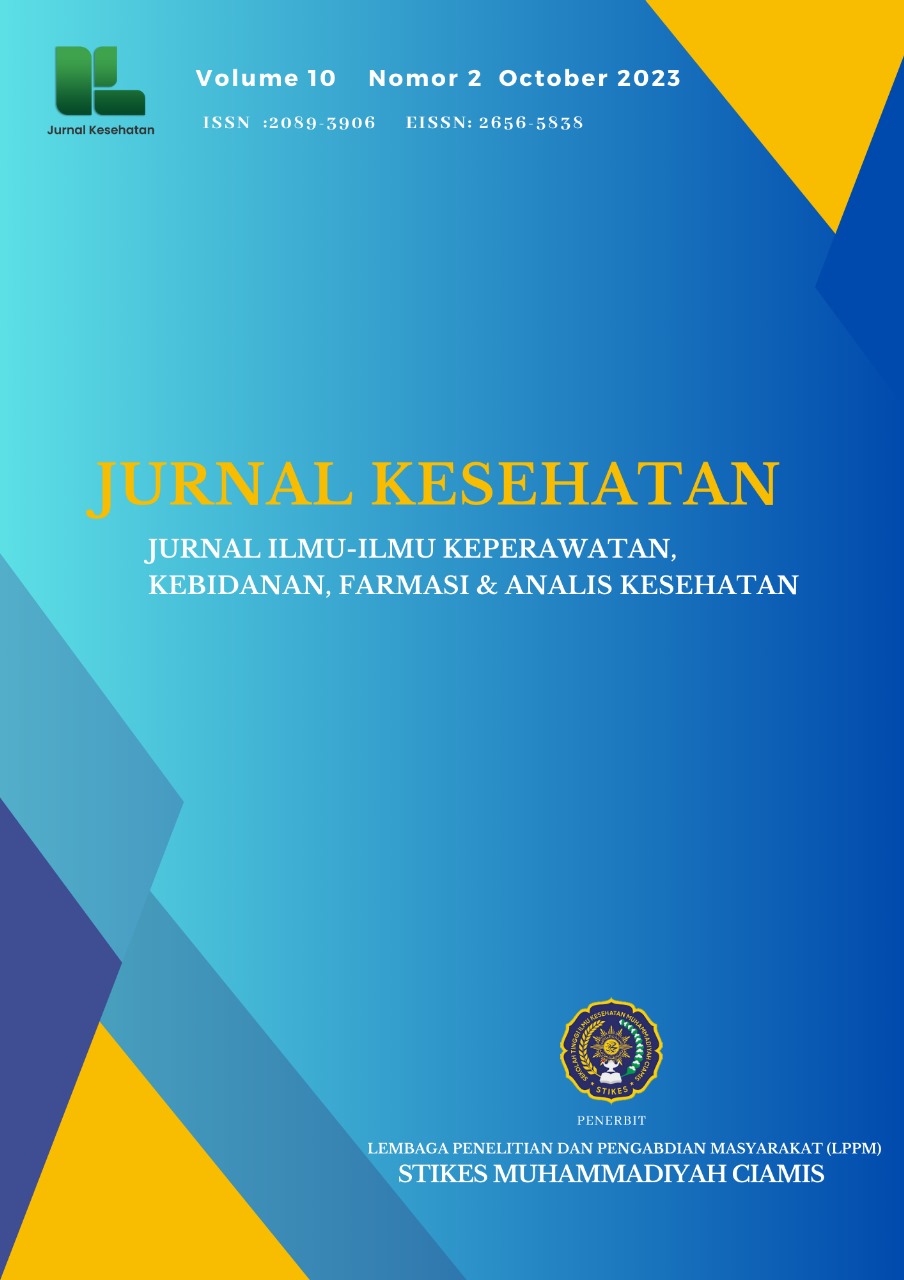 Downloads
How to Cite
Sukmawati, I., & Fitri, N. (2023). Nursing Care For Preeclampsia in Pregnant Women With Warm Water Foot Bath Hydrotherapy Interventions. JURNAL KESEHATAN STIKes MUHAMMADIYAH CIAMIS, 10(2), 71–74. https://doi.org/10.52221/jurkes.v10i2.361
License
Copyright (c) 2023 Ima Sukmawati, Neng Fitri
This work is licensed under a Creative Commons Attribution-ShareAlike 4.0 International License.