The Nurses' Experience Of Being A Nursepreneur In Independent Nursing Practice
Pengalaman Perawat Menjadi Nursepreneur dalam Praktik Keperawatan Mandiri
Keywords:
Nurse, Nursepreneur and Nursing Self Practice
Abstract
Nurses have the authority to open an independent nursing practice as one of the health services Nursepreneur is a business built based on the field of nursing the high number of nurses and the lack of independent nursing practice land into a phenomenon why nurses do not build a business in the field of nursing. Descriptive qualitative research method, sampling technique used purposive sampling and snowball sampling, with the number of informants three nurses who open nursing independent practice instrument used semi-structured interviews with data validity triangulation method and data analysis obtained five main themes. The results showed that the type of nursing independent practice established was wound care practice with a group wound care practice model, the strategic stage of establishing nursing independent practice by analyzing patient characteristics and analyzing the work environment and the regional environment, the obstacles are in the licensing flow in opening a nursing independent practice land that has not been structured and takes a long time and opportunities in mendiri nursing independent practice by branding between health agencies and through social media. Suggestions in this study need to develop quality standards for services to establish independent nursing practices and increase the involvement of professional organizations in fostering nurses who want to open independent nursing practices.
References
Aulianah, H., & Ismail, I. (2023). Faktor–Faktor Yang Mempengaruhi Motivasi Perawat Dalam Praktik Mandiri Perawat. Jurnal'Aisyiyah Medika, 8(2).
Hutagalung, D. K., Simatupang, M., & Simatupang, R. (2023). PENGARUH PERAWATAN LUKA MODERN DRESSING TERHADAP PERCEPATAN PENYEMBUHAN LUKA DIABETIK DI PRAKTEK KEPERAWATAN MANDIRI KECAMATAN SARUDIK TAHUN 2022. Journal Of Innovation Research And Knowledge, 3(3), 627–632.
Kereh, H. F., & Rochmawati, E. (2022). Pengalaman Belajar Mahasiswa Keperawatan Dalam Praktik Klinik. Journal Of Telenursing (JOTING), 4(1), 279–288.
Parlaungan, J., Samaran, E., Mobalen, O., & Rudi, E. (2022). Efektivitas Edukasi Dengan Mengadopsi Buku Juknis APD Wabah Covid-19 Kementerian Kesehatan RI Terhadap Sikap Dan Perilaku Penggunaan Alat Pelindung Diri (APD) Tenaga Kesehatan Saat Perawatan Pasien Covid-19. Malahayati Nursing Journal, 4(4), 907–918.
Ponamon, J. F., Welong, K. D., Naharia, O., & Sumual, S. D. M. (2023). Internship Model'Freedom Learns Independent Campus' For Nursing Students In The Digital Era Of Industry 4.0. International Journal Of Information Technology And Education, 2(3), 93–107.
Prasetyo, H., Handoyo, H., & Hartati, H. (2023). Pelatihan Business Day Home Care On Call Sebagai Sarana Praktika Dan Menumbuhkan Jiwa Entrepreneur Bagi Mahasiswa Keperawatan. Prosiding Seminar Nasional Keperawatan Universitas Muhammadiyah Surakarta, 1–8.
Srinadi, N. L. G., Pamungkas, M. A., & Muliawati, N. K. (2022). Dampak Seminar Nursepreneurship Terhadap Minat Mahasiswa Keperawatan Menjadi Seorang Nursepreneur. JKEP, 7(2), 254–261.
Sureskiarti, E. (2022). Hubungan Model Praktik Keperawatan Profesional Terhadap Pengendalian Mutu Keperawatan Di Unit Pelayanan Kesehatan: Literature Review. Borneo Studies And Research, 3(3), 2692–2707.
Triana, Y., Swasono, M. A., Wirasto, A., Syamsul, A., & Hamid, A. (2023). Pertanggungjawaban Tenaga Kesehatan Yang Praktik Tanpa Surat Tanda Registrasi (STR) Dalam Perspektif Hukum. Jurnal Pendidikan Dan Konseling (JPDK), 5(1), 778–785.
Widjadja, G., & Putri, S. H. M. (2022). Memahami Pelayanan Kesehatan Yang Dapat Diberikan Oleh Perawat Praktik Mandiri Berdasarkan Undang-Undang No 38 Tahun 2014 Tentang Keperawatan. Zahra: Journal Of Health And Medical Research, 2(3), 168–178.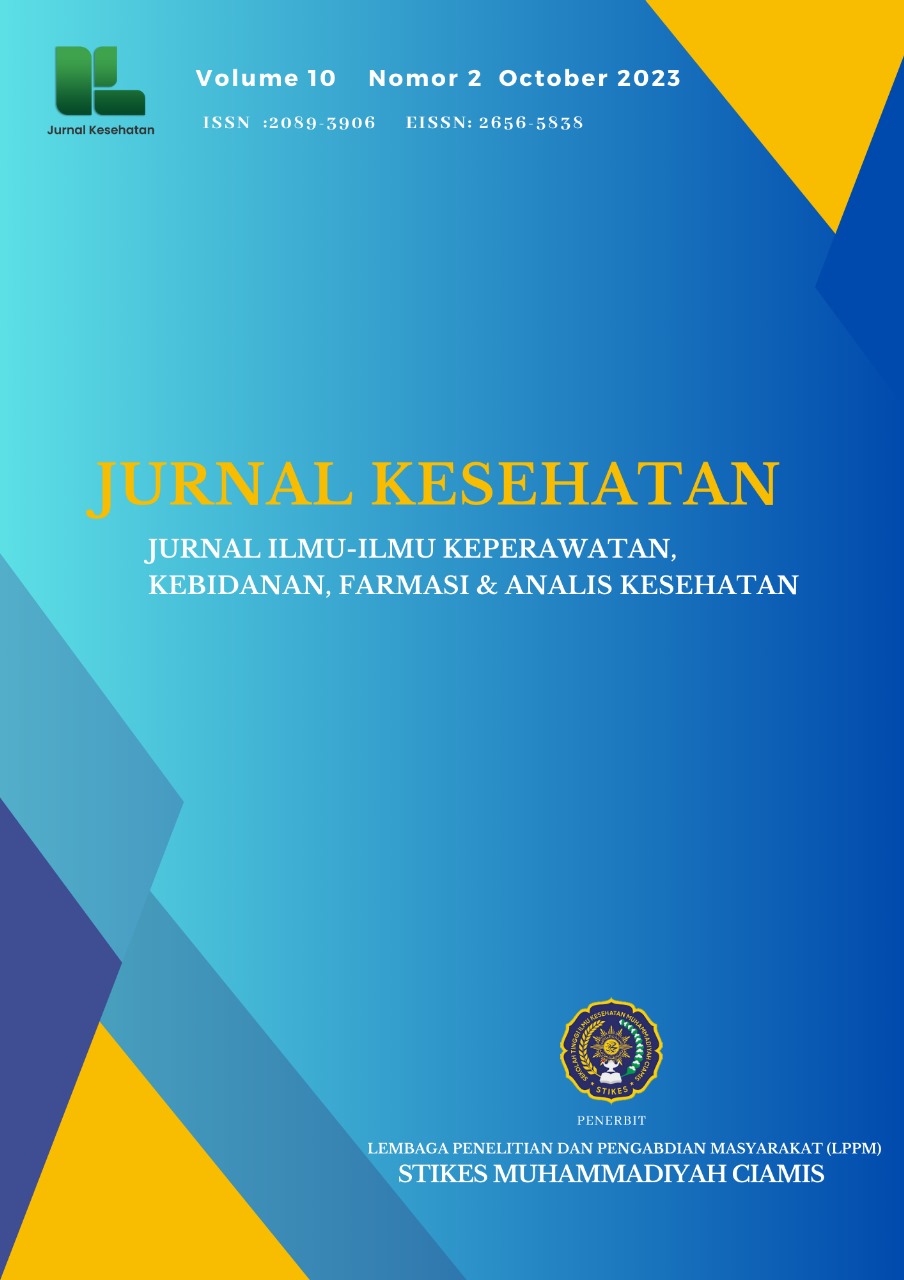 Downloads
How to Cite
Fitri Rejeki , Y. ., Sudrajat, A., & Herdian , F. . . (2023). The Nurses' Experience Of Being A Nursepreneur In Independent Nursing Practice: Pengalaman Perawat Menjadi Nursepreneur dalam Praktik Keperawatan Mandiri. JURNAL KESEHATAN STIKes MUHAMMADIYAH CIAMIS, 10(2), 75–81. https://doi.org/10.52221/jurkes.v10i2.385
License
Copyright (c) 2023 Yunita Fitri Rejeki , andi sudrajat, Fitra Herdian
This work is licensed under a Creative Commons Attribution-ShareAlike 4.0 International License.