THE RELATIONSHIP OF NURSING SERVICES WITH A LEVEL OF SATISFACTION OF PATIENTS IN ROOM DAHLIA HOSPITALS BANJAR
Keywords:
Nursing Services, The Level Of Satisfaction Of Patients
Abstract
Patient satisfaction is one of the important indicators to watch out for in the Ministry of health. According to the performance indicators of hospital of health RI year 2016, patient satisfaction related to the quality of hospital services. By knowing the level of satisfaction of patients, the hospital management may make improvements to the quality of service. The percentage of patients who are declared satisfied against the Ministry on the basis of the survey results with instruments that baku. The quality of service provided a nurse should be based on aspects of the 5 dimensions i.e. quick response (responsiveness), reliability (reliability), guarantees (assurance), empathy (empathy), evidence of physical (tangible). This research aims to know the relationship of nursing services with a level of satisfaction of patients in HOSPITALS Banjar Dahlia year 2018. The research method used i.e. quantitative analytic approach of using crosssectional. The population in this research is the whole space in inpatient HOSPITALS Banjar Dahlia class III. Samples were taken using a technique of non probability sampling by means of total population (sampling of saturated). Research results showed the highest frequency of nursing service categories i.e. either as many as 45 people 80.4%, patient satisfaction level of the highest frequency category well that is as many as 35 people 62.5%. Based on the results of the analysis of the data above, it can be concluded that there is a significant relationship between the level of satisfaction with nursing services patients, because the value of value  0,003 . The conclusions of the study i.e. There is a relationship between the level of satisfaction with nursing services patients in HOSPITALS Banjar Dahlia Room. It is recommended to perform actions before the nurse nursing hand-washing in advance, as well as to take
physical examinations such as checks of blood pressure, pulse, respiration and temperature periodic (morning, noon, night).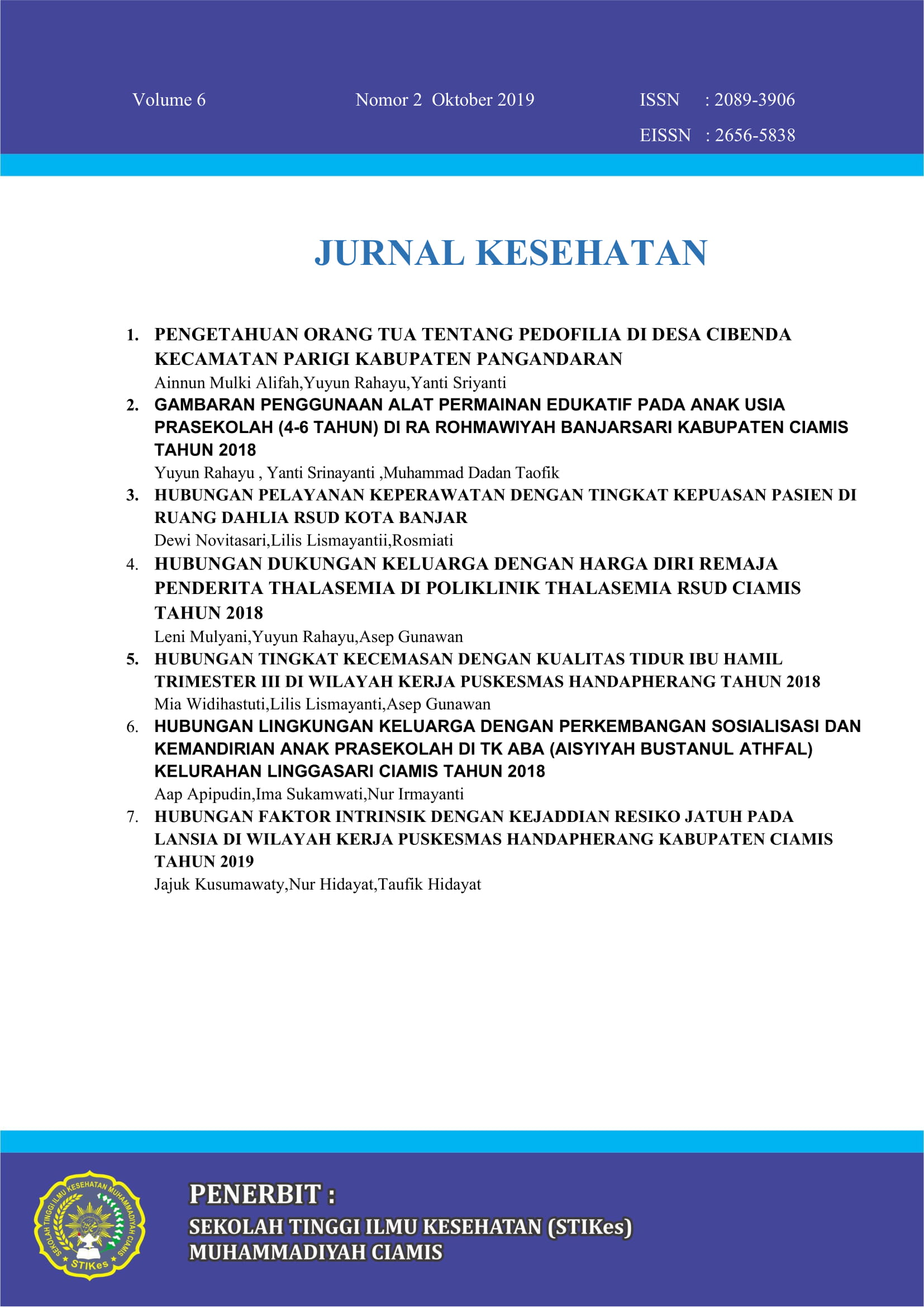 Downloads
How to Cite
Novitasari, D. ., lismayanti , lilis ., & Rosmiati, R. (2020). THE RELATIONSHIP OF NURSING SERVICES WITH A LEVEL OF SATISFACTION OF PATIENTS IN ROOM DAHLIA HOSPITALS BANJAR. JURNAL KESEHATAN STIKes MUHAMMADIYAH CIAMIS, 6(2), 20–28. https://doi.org/10.52221/jurkes.v6i2.81