THE RELATIONSHIP OF ANXIENTY LEVEL WITH SLEEP QUALITY OF THIRD TRIMESTER PREGNANT WOMAN IN WORKING AREA OF PUSKESMAS HANDAPHERANG YEAR 2018
Keywords:
Anxiety and Sleep Quality
Abstract
Anxiety and stress that occur in pregnant women greatly affect the quality of sleeping pregnant women and can pse a risk to the mother and fetus. In Kabupaten Ciamis in 2017 the number of pregnant women as many as 18,881 people. The number of pregnant women in Handapherang Puskesmas working are in february 2018 as many as 237 people. While the number of third
trimester pregnant women as many as 91 people. This study aims to determine the relationship between the level of anxiety with sleep quality of third trimester pregnant women in the work area of Handapherang Puskesmas.
The research method uses quantitative method of correlational analytic design using simple random sampling technique, with the number of samples counted 48 people from the population number 91 people. The results showed that most of pregnant women's anxiety was on the level of mild anxiety that is as much as 22 respondents (45,8%). Level of moderate anxiety as
much as 11 respondents (23%). Severe anxiety as many as 9 respondents (18,7%). While those who did not experience anxiety only 6 respondents (12,5%).  Result of research of sleep quality of pregnant mother of trimester III got result only 6 pregnant mother (12%) which sleep quality good while bad sleep quality as much as 42 pregnant mother (88%). Statistical test using spearman rank test with corellation value 0,542 included in strong category and ? value 0,000.
Conclusions there is a relationship between the Relationship of Anxiety Level with Sleep Quality of Trimester Pregnant Woman in Working Area of Handapherang Puskesmas with ? value 0,000 smaller than ?= 0,05.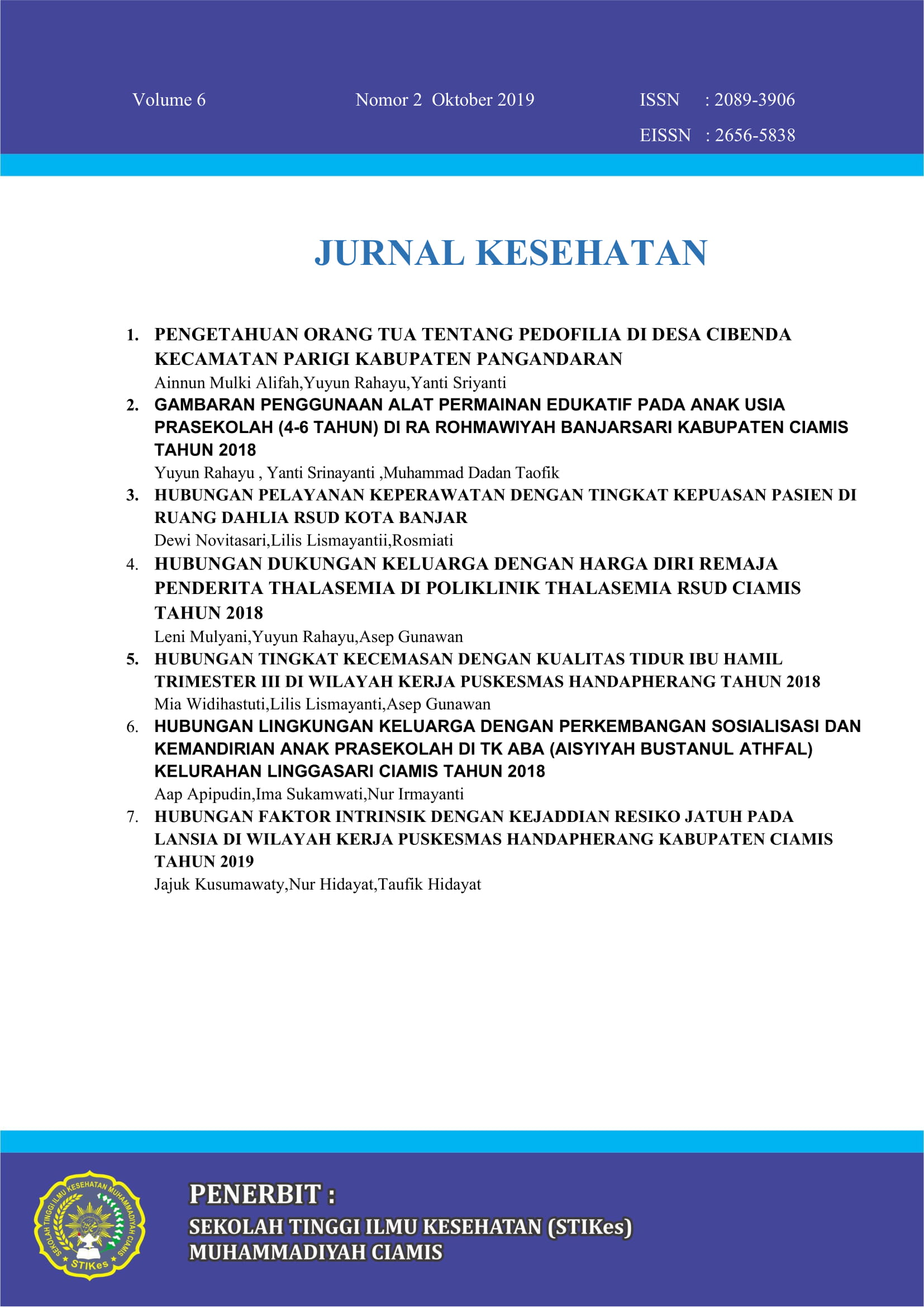 Downloads
How to Cite
widihastuti, mia, lismayanti , lilis ., & gunawan, asep . (2020). THE RELATIONSHIP OF ANXIENTY LEVEL WITH SLEEP QUALITY OF THIRD TRIMESTER PREGNANT WOMAN IN WORKING AREA OF PUSKESMAS HANDAPHERANG YEAR 2018. JURNAL KESEHATAN STIKes MUHAMMADIYAH CIAMIS, 6(2), 40–51. https://doi.org/10.52221/jurkes.v6i2.83